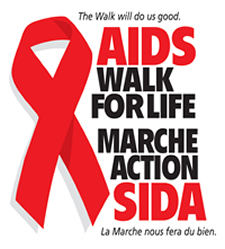 Artwork Chosen to Promote the 2008 AIDS Walk for Life: Morgan Mcconnell's The Nest Selected as Centrepiece for the Walk's Design
May 7, 2008, Ottawa - The AIDS Walk for Life announced the winner of their inaugural artwork competition in Ottawa today. The Walk selected a piece entitled The Nest by Morgan McConnell to be featured as the showpiece of their 2008 creative design. The Vancouver-based HIV-positive artist's work competed with several strong submissions from artists living with HIV/AIDS across Canada.
"The AIDS Walk for Life searched for HIV-positive artists to help us celebrate the challenges, victories, and lives of individuals living with HIV/AIDS in Canada," says Kim Thomas, Director of Programs at the Canadian AIDS Society. "We were overwhelmed with the incredible response and impressed with the quality and diversity of the submissions received."
"Morgan's artwork stood out from the crowd and made quite the impression on the judging panel," Dena Ellery, Director of Development at the BC Persons With AIDS Society, adds. "His piece portrays many of the emotions that lie at the heart of the AIDS Walk for Life, particularly the sense of hope that so many who live with HIV/AIDS really need revived."
The Nest depicts a crow perched on a near-barren tree. The bird has a red ribbon in its beak, fluttering in the wind towards the sole sprout of leaves on a distant branch. There is a sense of movement from chaos, entanglement, and blackness to the openness, clarity, and simplicity of the new growth.
As McConnell explains, "knowledge, awareness, and understanding about HIV is now becoming more common and leading us away from the barren tangle of misinformation, misunderstanding, and intolerance. But for this tree to reach its potential, we must nurture, protect, and love it."
In addition to winning an honorarium for his submission, McConnell's artwork will be prominently featured on AIDS Walk for Life promotional materials across the country. The artist and his work have been highlighted on aidswalkforlife.ca and the artwork will appear in a new public service announcement that will air on television prior to the Walk, affording him unprecedented exposure in Canada and around the world.
McConnell, who also works under the pseudonym dangerboy, is a professional graphic designer who has worked in Victoria, Australia, Borneo, Fiji, and most recently in his birth city of Vancouver. Always dabbling in art and sketching, it wasn't until he sat down in front of a computer that Morgan felt truly able to express his stream-of-consciousness designs.
Morgan has been HIV-positive for 7 years, but this subject does not dominate his work. His art has become an honest reflection of his views of humanity and the world around us, usually borrowing heavily from nature.
"Morgan's artwork will serve as a visible link between the AIDS Walk for Life and the people living with and impacted by HIV that we work with everyday," explains Lori Lucier, the Executive Director of the AIDS Committee of Toronto. "We are honoured to feature the work of such an incredibly talented artist."
This year's AIDS Walk for Life will take place in cities and communities across Canada from September 14-21, 2008. For more information and to find the Walk nearest you, please visit aidswalkforlife.ca.
-more-
ALL AIDS WALK FOR LIFE PROCEEDS SUPPORT DIRECT SERVICES FOR PEOPLE LIVING WITH AND AFFECTED BY HIV/AIDS IN YOUR COMMUNITY. TOUS LES PROFITS DE LA MARCHE ACTION SIDA SERVENT À SOUTENIR DES SERVICES DIRECTS POUR LES PERSONNES DE VOTRE COMMUNAUTÉ VIVANT AVEC LE VIH/SIDA OU QUI EN SONT AFFECTÉES.
AIDS Walk for Life

The AIDS Walk for Life is a project of the Canadian AIDS Society in partnership with the British Columbia Persons with AIDS Society, the AIDS Committee of Toronto, and community-based AIDS organizations across Canada. During the national weeklong event, cities and communities from across the country host Walks to raise funds for local services and programming and to raise awareness about HIV/AIDS. As Canada's most important HIV/AIDS awareness and fundraising event, the AIDS Walk for Life has now raised close to $28 million for community-based HIV/AIDS service organizations since 1996 and has attracted over half a million participants.
-30-
For more information, please contact:

Tricia Diduch, Communications Consultant
Canadian AIDS Society
190 O'Connor Street, Suite 800
Ottawa, ON K2P 2R3
Tel: 613.230.3580 (130)
E-mail: triciad@cdnaids.ca
"Reproduced with permission - National AIDS Walk for Life "
AIDS Walk for Life