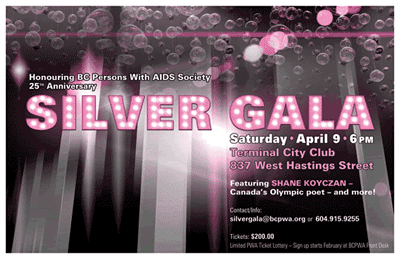 Honouring BC Persons With AIDS Society 25th Anniversary
Saturday.April 9.6-10pm
Terminal City Club
837 West Hastings Street
Featuring Spoken Word Artist SHANE KOYCZAN
Join us for a red carpet entrance, reception, entertainment, photo booth, gourmet cuisine & special tribute to our history
www.bcpwa.org or call 604.915.9255
*A designated number of complimentary tickets have
been allocated for PWAs on a random, lottery basis.
A special not-to-be missed event, 2011 is a milestone year: 25 years of BCPWA history and 30 years since AIDS was first identified in North America.
Come honour our history of achievements. Join us for a red carpet entrance, reception & entertainment, gourmet cuisine, prize raffle and live auction on Saturday, April 9th 2011 at the prestigious Terminal City Club from 6pm-10pm.
Hosted by Sophie Lui of Global TV with a special performance by Spoken Word Artist Shane Koyczan to honour our Society's history.
Proceeds benefit the vital programs and services provided by the BC Persons With AIDS Society. Our SILVER GALA is made possible through the support of sponsors and donors, and our gratitude for their support is shared by over 4900 HIV-positive members of the BC Persons With AIDS Society.
The dress code for the evening is formal. Men may wear a tuxedo or a 3-piece suit, ladies may wear an evening gown. A dark coloured suit with dress shirt and tie and an evening dress or suit is the minimum requirement for men and women attendees, respectively. Denim, sneakers, or other casual wear are not appropriate options for this event and this will be strictly reinforced at the door. Thank you for honouring our event by adhering to this dress code.
For more information, please contact Monica Chan, Special Events Coordinator, at silvergala@bcpwa.org or 604 915 9255 .
###
The British Columbia Persons With AIDS Society is dedicated to empowering persons living with HIV/AIDS through mutual support and collective action. With more than 4,800 members and a proud history spanning three decades, we are an established leader in the HIV/AIDS movement.