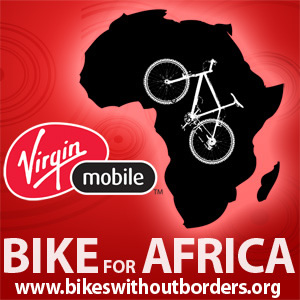 Toronto Islands "Walk & Roll" Sends Life-Saving Bikes to Africa
TORONTO (ONTARIO) April 6, 2009 - On May 30, Virgin Mobile and Bikes Without Borders host Bike for Africa, a fun and family-friendly event on Toronto Islands with the goal of raising $100,000 for the Pedal Powered Hope project in Malawi. By providing 400 new bikes and 100 bicycles ambulances to community care workers in rural districts, 15,000 more people will get the life-saving medication and support services they need.
"The community care model is extremely effective in rural areas, where traditional or government-run healthcare has fallen short," says Bikes Without Borders' executive director, Mike Brcic. "Community-based workers travel village to village, dispensing medication, providing HIV/AIDS prevention education, orphan support and home care."
But the vast majority of these workers travel long distances on foot - often days - to get to faraway clinics, communities and patients. A worker traveling on a bicycle can cover 4 to 5 times the distance they can on foot, reach up to 5 times as many patients, and carry 3 times the cargo.
To celebrate the impact of pedal power, Bike for Africa takes you on a walking or biking journey, starting at a 'clinic' on Ward's Island at 1 pm, and ending at a 'village' at Hanlan's Point at 3 pm , for a BBQ picnic with exciting Toronto bands The WitHouts, Mr. Something Something, and Samba Squad.
"It's been a long, cold winter for everyone in Toronto. Bike for Africa 2009 is the perfect chance to get out, enjoy the beginning of summer, and put the pedal to the metal for an amazing cause," said Nathan Rosenberg, Chief Marketing Officer, Virgin Mobile Canada, "Delivering this kind of desperately needed healthcare is a tangible and immediate way to make a life-saving difference. Just by taking part people can make a direct impact to the lives of people in need. All of us at Virgin Mobile are going to working to spread the word, and on the day we'll be there to make sure everyone's tuned up and ready to make Bike For Africa a total success."
For more information or to register for Bike for Africa visit www.bikeswithoutborders.org or call (647) 999-7955. Fee of $25 per individual, $60 per family, and $200 for teams of up to 10, includes BBQ picnic.
-30-
MEDIA: For more information, photos, or to arrange an interview, please contact:

Mike Brcic
Executive director, Bikes Without Borders
Ph: 647-999-7955
e-mail: mike@bikeswithoutborders.org
Reproduced with permission -
" Bikes Without Borders "
Bikes Without Borders