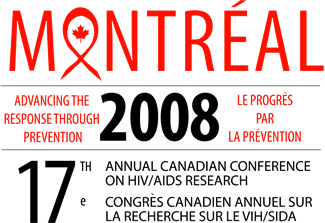 6 days left to submit an abstract for the CAHR 2008 Conference
Visit www.cahr-acrv.ca to submit an abstract by the deadline of Sunday, January 27, 2008, 5 pm (Pacific Standard Time) for the 17 th Annual Canadian Conference on HIV/AIDS Research. The conference takes place from April 24 to 27, 2008 at the Fairmont Queen Elizabeth Hotel in Montréal , QC .
Abstracts may be submitted in either French or English.
Click here to visit the English-language abstract submission site.
Registration and Hotel
Online registration is now open! Click here to book your hotel room and register for the Conference
Program Updates
New in 2008!
CAHR New HIV Researchers Workshop
Thursday afternoon, April 24, 2008
The Clinic program will offer a new dynamic, interactive learning experience tailored to the needs of new researchers, post doctoral fellows, graduate students, trainees, and newly appointed faculty. Topics covered will include:
• Ethics Issues in HIV Research
• Writing Skills for HIV Researchers
• Breaking New Ground: Researchers Working with Community
Registration information for the Clinic will be available at cahr-acrv.ca in the near future.
Visit www.cahr-acrv.ca regularly for more news on the New Investigators Mentoring and Coaching Clinic, program updates and other information.
We look forward to seeing you in April for an exciting and productive meeting.
Dr. Marina Klein
Conference Chair
Plus que 6 jours pour soumettre un abrégé pour le congrès de l'ACRV 2008
Visitez le site www.cahr-acrv.ca pour soumettre un abrégé pour le 17 e Congrès canadien annuel de recherche sur le VIH et le sida. La date limite de soumission est le dimanche 27 janvier 2008, 17 h (heure normale du Pacifique). Le congrès aura lieu du 24 au 27 avril 2008 au Fairmont Le Reine Elizabeth , à Montréal (Québec).
Les abrégés peuvent être soumis en français ou en anglais.
Cliquez ici pour visiter le site de soumission des abrégés en français.
Inscription et hôtel
Vous pouvez maintenant vous inscrire en ligne! Cliquez ici pour réserver votre chambre d'hôtel et vous inscrire au congrès.
Mise à jour du programme
Nouveau en 2008!
Atelier destiné aux nouveaux chercheurs de l'ACRV dans le domaine du VIH
Le jeudi après-midi, 24 avril 2008
Cette clinique offrira une nouvelle expérience d'apprentissage interactif dynamique adaptée aux besoins des nouveaux chercheurs, des détenteurs d'une bourse de perfectionnement postdoctoral, des étudiants des cycles supérieurs et des nouveaux membres de la faculté. Voici quelques-uns des sujets figurant au programme.
• Questions d'éthique liées à la recherche sur le VIH
• Compétences rédactionnelles des chercheurs se consacrant au domaine du VIH
• Innover : chercheurs travaillant auprès de la communauté
De l'information relative à l'inscription à la clinique sera publiée sous peu sur le site de l'ACRV à www.cahr-acrv.ca .
Visitez le site www.cahr-acrv.ca souvent pour connaître les dernières nouvelles sur la clinique de mentorat et d'encadrement des nouveaux investigateurs et le programme, ainsi que d'autres renseignements.
Nous avons hâte de vous rencontrer en avril à cette réunion stimulante et productive.
D re Marina Klein
Présidente du congrès
"Reproduced with permission - "Canadian Association for HIV Research"
www.cahr-acrv.ca