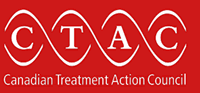 RON ROSENES - HONOURARY DOCTORATE FROM CARLETON UNIVERSITY
Toronto, JUNE 11 - The Canadian Treatment Action Council (CTAC) is honoured to have Ron as a member of our organization, and would like to extend our heartfelt congratulations on his significant achievement of being awarded an Honourary Doctorate from Carleton University, conferred on June 5, 2012.
Ron Rosenes has been living with HIV for over 30 years and became an active volunteer member of the HIV/AIDS community in Toronto in 1991. He chaired the AIDS Walk in the early 1990s, and then served as Board Chair of the AIDS Committee of Toronto from 1995 to 1998. In September of 1999, he was appointed ACT's first Honorary Director. Ron is a long time member of AIDS ACTION NOW! He is a founding Board Member of the Sherbourne Health Centre, a primary care clinic serving the needs of a downtown inner city community. Ron served as a member of the Steering Committee of the Canada AIDS Russia Project in 2000. Ron was a founding Board Member and Vice Chair of AIDS2006 Toronto Local Host. He has served as the Community Activist Liaison at every IAS Conference since Toronto. He is Community Chair of the Scientific Review Committee at the Ontario HIV Treatment Network (OHTN) and a member of the Research Policy and Priorities Advisory Committee (RPPAC). He also sits on the Community Advisory Committee of the CIHR Canadian Trials Network and was recently appointed to the CIHR HIV/AIDS Research Advisory Committee (CHARAC). Ron holds an appointment to the Ontario Advisory Committee on HIV/AIDS to the Ontario Minister of Health. Ron recently stepped down after 14 years as Vice Chair of CTAC, one of the national NGOs working on access to therapies for people with HIV/AIDS or co-infected with Hepatitis C. Ron is currently a consultant with Ontario Organizational Development Program (OODP) working to build organizational health and excellence among Ontario-based ASOs.
On behalf of our membership, Board, Council & Staff we congratulate you for your continuing support and commitment to the HIV/AIDS sector and the work of CTAC.
http://www.ctac.ca/en/issues/ron-rosenes-%E2%80%93-honourary-doctorate-carleton-university
Akim Adé Larcher


Akim Adé Larcher
Executive Director
Email: akim@ctac.ca
Web: www.ctac.ca
For more information please contact: Akim Adé Larcher, +1 416-268-1622, akim@ctac.ca
ABOUT CTAC
The Canadian Treatment Action Council (CTAC) works to secure and ensure access to therapies, treatments and care for people living with HIV/AIDS, including those who are co-infected, by working with the public, private and not-for-profit sectors. For more information on CTAC's mandate, mission and work please visit www.ctac.ca .
Canadian Treatment Action Council
555 Richmond Street West, Suite 1109B
Toronto, ON, M5V 3B1
Tel/Fax: 416-410-6538
"Reproduced with permission - CTAC Canadian Treatment Action Council /Conseil canadien de surveillance et d'accès aux traitement"
CTAC

For more HIV and AIDS News visit...

Positively Positive - Living with HIV/AIDS:
HIV/AIDS News