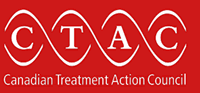 $2.5 Million for Saskatchewan's HIV Strategy
Thousands in Saskatoon to discuss HIV applaud the provincial government for its commitment to address the epidemic
May 14, 2010, Saskatoon - HIV/AIDS researchers, healthcare professionals, AIDS service organizations and AIDS activists gathered in Saskatchewan for the Canadian HIV/AIDS Research Conference applaud the Health Minister Don McMorris for his announcement of $2.5 million to develop and implement a multi-year HIV strategy for the province.
"It was good to hear the Minister recognize the priorities of surveillance, clinical management, care-including harm reduction, and mother to child transmission", says Nicole White, Executive Coordinator, AIDS Saskatoon. "We were also please to hear the Minister recognize the direct impact of determinants of health on those who are most represented in the epidemic. We are confident the strategy will contain tactics to enhance housing, training, education, and other social determinants of health needed to ensure support for people with HIV and prevent new infections."
"This announcement is a good down payment as long as it represents new money and not just money re-directed from other badly needed programs" says Dr. Stephen Helliar, Family Physician at the Saskatoon Community Clinic. "While we are pleased that the Minister recognizes that more money will be required to deal with this epidemic, we look forward to hear the specific amounts contained in the further installments of new money to come. This investment will certainly payoff in enormous savings to the government in the health care and overall budget. It will also payoff in the priceless dividend of lives saved, better quality of life, and healthier communities across the province of Saskatchewan" he adds.
"We were also please to hear the mayor of Saskatoon, Donald J. Atchison, recognize the need for affordable housing for those with HIV and those in the most vulnerable situation for infection" says Krista Shore, a First Nations women living with HIV in Regina. "We, members of the First Nations and Métis communities look forward to an equal partnership with other members of the HIV community, the ministry of health, the public health department, health care providers and AIDS service organizations to spend this money wisely. Let's move ahead to do this difficult but crucially important work. Together we can reduce the number of new infections."
-30-
Media Requests

Nicole White: 306-229-2328 (cell)

Beatrice Cardin: 647-330-0114 (cell)
"Reproduced with permission - CTAC Canadian Treatment Action Council /Conseil canadien de surveillance et d'accès aux traitement"
CTAC