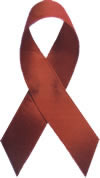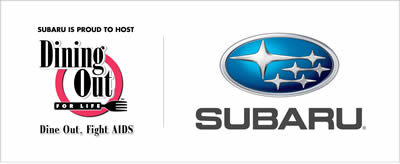 Make your reservations today . only 2 more days until Dining Out For Life®
Dine Out Fight AIDS Thursday, April 29th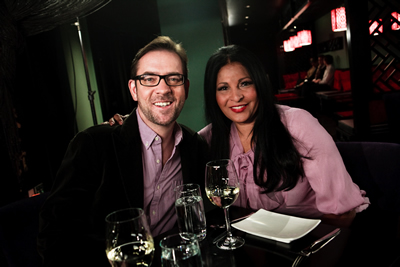 Tuesday, April 27, 2010
Media Advisory

Thursday, April 29, 2010 - an estimated 250,000 people will dine out to fight AIDS in over fifty cities across the U.S. and Canada.

Nearly 3,000 restaurants participate in Dining Out For Life® hosted by Subaru by donating a generous percentage of proceeds from the day's meals to a local AIDS service organization. Money raised in each city stays in that city.

Ted Allen of Food Network's "Chopped"
has been spokesperson since 2008. "Dining Out For Life is a win-win-win situation. For the price of a meal, you can help in the fight against AIDS by supporting a local HIV /AIDS organization, try a new local restaurant and feel great while enjoying a meal with friends!"

Pam Grier, Television & Film Actress joined as co-spokesperson in 2010: "There is a resurgence of HIV among youth, gay men, women and ethnic minorities due to lack of education and the misperception that the epidemic is over and curable. Awareness and funds are declining -- but you can help. Dine out on Thursday, April 29th for the most satisfying meal you'll have all year."

Felipé Rose, singer and Native American Indian of The World Famous Village People, is 2010 Social Ambassador.
In addition to the generous support of Subaru, Dining Out For Life benefits from partnerships with: CBS Station Groups; Dining Out Magazine; Kimpton Restaurants and Hotels; Open Table.com; and Yelp.com.
Here is how to participate: Visit www.diningoutforlife.com and make a reservation at a participating restaurant near you on April 29.

Contact the Dining Out For Life AIDS service provider in your city to volunteer

Follow us on Twitter @DineOut4Life and on FaceBook.com/DineOut4Life and join the world's largest social dining event.TwEAT Out, Fight AIDS!
###
Facts about HIV/AIDS: In the U.S., every 9 ˝ minutes a person is infected with HIV. It's estimated that one in five individuals (20%) are unaware of his/her HIV infection and may be passing it along to others unknowingly. Nearly 7,500 new cases of HIV infections are reported worldwide each day.
About Dining Out For Life International:
Dining Out For Life® is an international fundraising event involving the generous participation of volunteers, corporate sponsors and restaurants. In exchange for their financial support, restaurants are promoted in an effort to increase customer traffic. In 1991, Dining Out For Life was created by ActionAIDS in Philadelphia. Dining Out For Life is now held in 50+ cities throughout North America. For more information see diningoutforlife.com
About Subaru of America, Inc.
Subaru of America, Inc. is a wholly owned subsidiary of Fuji Heavy Industries Ltd. of Japan. Headquartered in N.J., the company markets and distributes Subaru Symmetrical All-Wheel Drive vehicles, parts and accessories through a network of nearly 600 dealers across the United States. Subaru boasts the most fuel efficient line-up of all-wheel drive products sold in the market today based on Environmental Protection Agency (EPA) fuel economy standards. All Subaru products are manufactured in zero-landfill production plants and Subaru of Indiana Automotive Inc. is the only U.S. automobile production plant to be designated a backyard wildlife Habitat by the National Wildlife Federation.
Reproduced with permission - "Dining Our For Life "
Dining Our For Life