Giant rainbow flag to descend upon Toronto's Church and Wellesley Village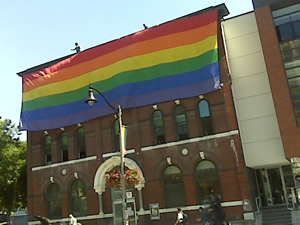 The 519 to kick off its annual Pride festivities by unfurling a giant flag over its building
TORONTO, June 22 /CNW/ - In its annual demonstration of Pride, The 519 Church Street Community Centre will unfurl a giant rainbow flag over the face of its century-old building. The unfurling will occur today at Noon.

"Pride is a great opportunity to celebrate the diverse communities which meet at The 519," says Maura Lawless, Executive Director of The 519. "Our community centre has always played a central role in community celebration and activism. In our building, so many advocates and activists began the process of change and have worked tirelessly to achieve legal rights and equality in marriage and the workplace, fought AIDS discrimination, and stood up proudly against the bathhouse raids."
The rainbow flag is a universal symbol of the queer and trans communities and was created by San Francisco artist Gilbert Baker in 1978.
The 519's pride schedule includes a Queer Family Fun Day and Trans Theatre Under the Stars on Tuesday, the 25th Anniversary AIDS Candlelight Vigil on Thursday and a weekend of live performances by local and international artists all weekend long in the Green Space on Church.
For further information:

Eric Berndt,
Tel: (416) 355-6777,
E-Mail:eric@the519.org
THE 519 CHURCH STREET COMMUNITY CENTRE
519 Church Street,
Toronto, Ontario,
M4Y 2C9,
Phone: 416·392·6874
www.the519.org