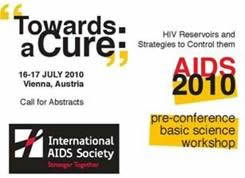 HIV Reservoirs: IAS call for abstracts
Pre-Conference Workshop: "Towards a Cure": HIV Reservoirs and Strategies to Control Them.
16 - 17 July 2010, Vienna, Austria -
Submission Deadline - 10 Feb,
January 29, 2010 -
The IAS will convene a 2-day workshop, chaired by 2008 Nobel Laureate for Medicine and IAS Governing Council Member Françoise Barré-Sinoussi, for up to 200 invited researchers in Vienna, Austria, immediately preceding the XVIII International AIDS Conference, to take place 18-23 July. This workshop is planned in order to increase the focus on basic science at AIDS 2010 and will be closely linked to the AIDS 2010 conference programme. This workshop is organized thanks to the support of the French Agence Nationale de Recherche sur le SIDA, the Austrian Ministry of Science, the United States National Institutes of Health, and Sidaction (France).
Track A and B (basic and clinical sciences) abstracts submitted to the International AIDS Conference and related to the topic of HIV reservoirs and strategies to control them will be considered for the closed workshop (oral presentations and posters), while results from the workshop will be shared with the expected 25 000-30 000 participants attending AIDS 2010.
Abstract submission opened on 1 November 2009 and will close at midnight CET on 10 February 2010. Please submit abstracts online at: http://www.aids2010.org/ . Selected abstracts presenters can be awarded scholarships for both the workshop and AIDS 2010. You can apply online at http://www.aids2010.org/ from 1 December 2009 until 10 February 2010.
One prize will be awarded to a young investigator whose abstract demonstrates innovation, originality, rationale and quality in the field of HIV and AIDS research. This prize, the IAS/ANRS Young Investigator Award will be given at the workshop.
Please click here for more detailed information on the background and objectives of the pre-conference workshop and for any additional information please contact reservoirs@iasociety.org .
HIV_Reservoirs_IAS_call_fo_abstracts_flyer
The IAS Reservoirs Team
"Reproduced with permission - International AIDS Society"
International AIDS Society