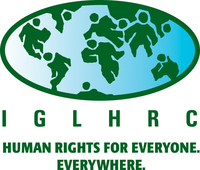 Gay Ugandans: Loud and Proud
by Val Kalende
A Voice from LGBT Uganda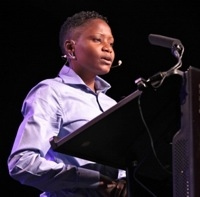 NEW YORK, 16 August 2012 - "Gay Ugandans: Loud and Proud," an article by Val Kalende, a Ugandan LGBT activist, appeared in the Huffington Post on August 15th, 2012. It is available to you for reprint in part or whole. The encolsed photo of Val Kalende is available for your use. Val can be reached at vkalende@iglhrc.org
Gay Ugandans: Loud and Proud
http://huff.to/R5cZg4
About 10 years ago, when I first came out to my guardian and, later, to my closest colleagues at the Daily Monitornewspaper in Uganda, I was nothing short of terrified of losing both family and friends. As I had anticipated, declaring my love for fellow women got me my own share of homelessness, verbal abuse, and alienation, even from people I trusted the most. Abandoned as a teenager and forced into maturity at a tender age, I always believed in the transformative power of truth, because the truth, as they say, sets us free. My "coming out" story as a Pentecostal-raised Ugandan lesbian woman is no different from the story of the activists who marched at the first-ever LGBT Pride parade in Uganda on Aug. 4.
For the complete article, visit: Huffington Post Gay Voices
Val Kalende is a noted Ugandan activist for LGBT people. In 2003 Val helped launch Freedom and Roam Uganda, the only lesbian organization in Uganda, and is in the leadership of Sexual Minorities Uganda, a coalition of LGBT groups. She has played a key role as a writer, speaker, activist, community organizer, and builder within the LGBT movement in Uganda.
In 2010 Val travelled to the United States at the invitation of the U.S. Department of State to attend the International Visitor Leadership Program, an exchange tour on which she addressed LGBT issues in her country and the role of U.S. right-wing evangelicals in sponsoring homophobia in Africa.
A former writer for a national newspaper in Uganda and once jailed for campaigning for the inclusion of LGBT people in Uganda's national HIV/AIDS programs, Val provides updates and commentaries on the notorious anti-homosexuality bill, still being debated by the Ugandan government. Val is currently a doctoral student at the University of Britisch Columbia and is a Fellow for the Africa Program at the International Gay and Lesbian Human Rights Commission.
###
The International Gay and Lesbian Human Rights Commission (IGLHRC) is a leading human rights organization solely devoted to improving the rights of people around the world who are targeted for imprisonment, abuse or death because of their sexuality, gender identity or HIV/AIDS status. IGLHRC addresses human rights violations by partnering with and supporting activists in countries around the world, monitoring and documenting human rights abuses, engaging offending governments, and educating international human rights officials. A non-profit, non-governmental organization, IGLHRC is based in New York, with offices in Cape Town and Buenos Aires. Visit http://www.iglhrc.org for more information
The Mission of the International Gay and Lesbian Human Rights Commission is to secure the full enjoyment of human rights of all people and communities subject to discrimination or abuse on the basis of sexual orientation or expression, gender identity or expression and/or HIV status.
Media Contact: Brian Tofte-Schumacher
brian@iglhrc.org or +1-212-430-6015

Source: IGLHRC:

Reproduced with permission - "(IGLHRC)INTERNATIONAL GAY AND LESBIAN HUMAN RIGHTS COMMISSION "
(IGLHRC) INTERNATIONAL GAY AND LESBIAN HUMAN RIGHTS COMMISSION

For more HIV and AIDS News visit...

Positively Positive - Living with HIV/AIDS:
HIV/AIDS News