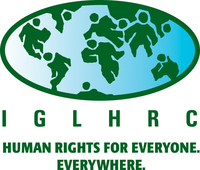 NYC Vigil to Remember David Kato
When: February 3, 2011 4:00 pm
Where: Location to be determined. Vigil will be followed by a procession to Uganda House - 336 E. 45th St.
On Thursday, February 3rd, the International Gay and Lesbian Human Rights Commission (IGLHRC) and other concerned organizations will hold a peaceful vigil near the Ugandan Mission to the United Nations in New York City to remember and honor David Kato's life and his struggle for human rights for all people, regardless of sexual orientation or gender identity. Join us in mourning David and showing the Ugandan government that there must be no more violence and discrimination against LGBT Ugandans.
###
The International Gay and Lesbian Human Rights Commission (IGLHRC) is a leading human rights organization solely devoted to improving the rights of people around the world who are targeted for imprisonment, abuse or death because of their sexuality, gender identity or HIV/AIDS status. IGLHRC addresses human rights violations by partnering with and supporting activists in countries around the world, monitoring and documenting human rights abuses, engaging offending governments, and educating international human rights officials. A non-profit, non-governmental organization, IGLHRC is based in New York, with offices in Cape Town and Buenos Aires. Visit http://www.iglhrc.org for more information
The Mission of the International Gay and Lesbian Human Rights Commission is to secure the full enjoyment of human rights of all people and communities subject to discrimination or abuse on the basis of sexual orientation or expression, gender identity or expression and/or HIV status.
Reproduced with permission - "INTERNATIONAL GAY AND LESBIAN HUMAN RIGHTS COMMISSION (IGLHRC)"
INTERNATIONAL GAY AND LESBIAN HUMAN RIGHTS COMMISSION (IGLHRC)