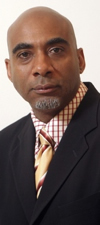 Cary Alan Johnson Appointed as IGLHRC's New Executive Director
(New York, NY, January 21, 2009) - The Board of Directors of the International Gay and Lesbian Human Rights Commission (IGLHRC) is pleased to announce the appointment of Cary Alan Johnson as the organization's next Executive Director. He succeeds outgoing Executive Director, Paula Ettelbrick, whose six-year term ends on March 1, 2009.
"Cary is a true visionary and proven leader," according to IGLHRC Board Co-Chairs Ally Bolour and Dorothy Sander. "We have great confidence in Cary's ability to continue IGLHRC's incredible momentum in challenging abuse and discrimination around the world."
Johnson is currently IGLHRC's Senior Africa Specialist, a position he has held for four years, and manager of the organization's office in Cape Town, South Africa. Under his leadership, IGLHRC's Africa program has grown significantly and had an indelible affect on the promotion of human rights for lesbian, gay, bisexual and transgender (LGBT) people in the region. He has developed enduring partnerships with African LGBT, HIV and human rights organizations that have been key to challenging arrests and abuse in countries such as Cameroon, Nigeria, Uganda and Senegal.
Cary led the effort to bring LGBT people to the Africa-wide International Conference on AIDS and STDs in Africa-first in Abjua, Nigeria in December 2005, and most recently last month in Dakar, Senegal-providing critical attention to the pronounced HIV needs of African men who have sex with men. He also helped spearhead the participation of LGBT activists throughout Africa in the regular session of the African Commission for Human and Peoples' Rights in 2006, shattering the silence around human rights and LGBT issues at the African Union. Johnson is also the author of IGLHRC's acclaimed report, Off the Map: How HIV/AIDS Programming is Failing Same-Sex Practicing People in Africa.
"We have a strong staff and a committed board of directors. It's an honor to have been chosen to guide our work into the future," said Johnson.
Born in Brooklyn, New York, Johnson has lived in Africa for the better part of the past two decades. Prior to joining IGLHRC's staff, he worked as the South Africa-based Africa Regional Director for the Margaret Sanger Center International, the Country Representative for Africare in Rwanda and then in Zimbabwe, and a Field Officer for the United Nations High Commission for Refugees in the Democratic Republic of Congo.
He graduated from Sarah Lawrence College in Bronxville, New York, and has a Master's of International Affairs from Columbia University.
Johnson will relocate from IGLHRC's South Africa office to its New York City headquarters. IGLHRC also has an office in Buenos Aires, Argentina, and staff in Washington, DC and Quezon City, the Philippines.
##
The International Gay and Lesbian Human Rights Commission (IGLHRC)
is a leading human rights organization solely devoted to improving the rights of people around the world who are targeted for imprisonment, abuse or death because of their sexuality, gender identity or HIV/AIDS status. IGLHRC addresses human rights violations by partnering with and supporting activists in countries around the world, monitoring and documenting human rights abuses, engaging offending governments, and educating international human rights officials. A non-profit, non-governmental organization, IGLHRC is based in New York, with offices in Cape Town and Buenos Aires. Visit
http://www.iglhrc.org
for more information
================================
Contact Media:
Hossein Alizadeh,
212-430-6016,
halizadeh@iglhrc.org
Reproduced with permission - "INTERNATIONAL GAY AND LESBIAN HUMAN RIGHTS COMMISSION (IGLHRC)"
INTERNATIONAL GAY AND LESBIAN HUMAN RIGHTS COMMISSION (IGLHRC)