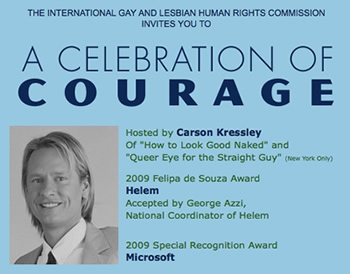 INTERNATIONAL GAY AND LESBIAN HUMAN RIGHTS COMMISSION INVITES YOU TO
A CELEBRATION OF
COURAGE
Hosted by Carson Kressley Of "How to Look Good Naked" and "Queer Eye for the Straight Guy" (New York Only)
2009 Felipa de Souza Award
Helem
Accepted by George Azzi,
National Coordinator of Helem
2009 Special Recognition Award
Microsoft
New York
Monday, March 30, 2009
6:30 to 8:30 pm
The Rosenthal Penthouse at NYU Kimmel Center
60 Washington Square South

CHAIR
Houman Sarshar
SAN FRANCISCO
Thursday, April 2, 2009
6:30 to 8:30 pm
W Hotel
181 Third St.

CHAIR
Jim Freeman
Tickets are $150, $100 & $50 per person for the awards ceremony and cocktail reception.
The International Gay and Lesbian Human Rights Commission (IGLHRC) is a leading human rights organization solely devoted to improving the rights of people around the world who are targeted for imprisonment, abuse or death because of their sexuality, gender identity or HIV/AIDS status. IGLHRC addresses human rights violations by partnering with and supporting activists in countries around the world, monitoring and documenting human rights abuses, engaging offending governments, and educating international human rights officials. A non-profit, non-governmental organization, IGLHRC is based in New York, with offices in Cape Town and Buenos Aires. Visit http://www.iglhrc.org for more information
Reproduced with permission - "INTERNATIONAL GAY AND LESBIAN HUMAN RIGHTS COMMISSION (IGLHRC)"
INTERNATIONAL GAY AND LESBIAN HUMAN RIGHTS COMMISSION (IGLHRC)