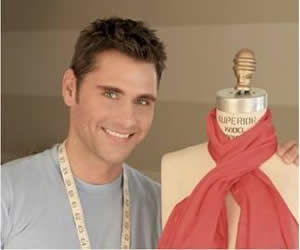 Jack Mackenroth is a fashion designer, model, actor and swimmer. He was recently a contestant on the popular reality television series "Project Runway" and was featured in the blockbuster film "Sex and the City." He currently serves as a commentator for the style section of Star Magazine.
Passionate about helping people living with HIV stay positive about their lives, Jack recently embarked on a new educational program for people living with HIV called Living Positive By Design. In this program, Jack will share his perspective as someone who has lived with HIV for nearly 20 years through a series of local events in partnership with HIV and AIDS community organizations and physicians. The Living Positive By Design educational program will provide information about the current landscape of HIV and AIDS treatment and the importance of having a positive outlook on life while effectively managing the disease.
Originally from Seattle, Jack moved to California after high school where he attended the University of California at Berkeley and graduated with a double degree in Fine Arts and Sociology. He then studied Fashion Design at Parsons School of Design in New York City. Fresh out of Parsons, Jack opened a menswear store in New York City's über chic West Village called "Jack." Before appearing on Season 4 of "Project Runway," Jack served as the Design Director for Weatherproof Active Wear for four years. Currently, Jack is developing his own line of men's dress shirts and dress pants and hopes to expand into all aspects of men's sportswear. ffort to help the local Chicago community affected by HIV and AIDS.
In his professional life, Jack designs beautiful clothes that make people feel good. In his personal life, Jack has been very open about his positive HIV status and has tried to combat the stigma of HIV by living honestly and being a role model through professional and athletic achievements. He has worked closely with HIV and AIDS charities such as amfAR, AIDS Service Center, God's Love We Deliver and Project Open Hands.
Jack has received national recognition as a competitive swimmer. He has three All-American titles to his name and set a national record in the summer of 2006 in the breaststroke leg of the 4 x 50 meter medley relay. He is currently training for the 2009 Outgames to be held in Copenhagen, Denmark. As a fitness and fashion model through the 1990s, Jack appeared in such magazines as Paper, DNR, Men's Fitness, Men's Journal, Genre, Blue and Envy. Since appearing on "Project Runway," he has graced the covers of POZ, HIV Plus, HX, Instinct, Lavender, Gloss and David. Jack's fashion illustrations have appeared in Elle, Nylon and Paper, among others.
In addition to Jack's athletic endeavors, ongoing clothing design projects and current initiative, Living Positive By Design, he is also planning a design show and memoir.

"Reproduced with permission - Living Positive By Design"
Living Positive By Design