"Project Runway" Star Lends Design Expertise to the Longest Ongoing Community Art Project at Nation's Largest HIV Gathering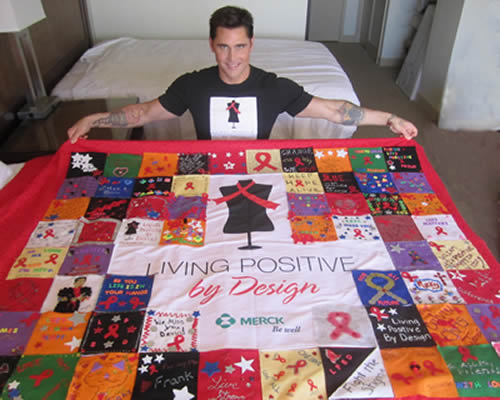 Jack Mackenroth to Create Living Positive By Design Panel for NAMES AIDS QuiltTM at the United States Conference on AIDS (USCA)
Orlando, FL, September 10 - Jack Mackenroth, from the popular television series "Project Runway," is bringing his national HIV education campaign Living Positive By Design back to the largest AIDS-related gathering in the country this week. At the United States Conference on AIDS (USCA), from September 12-15 in Orlando, Jack is designing a Living Positive By Design panel for submission to the NAMES AIDS QuiltTM, the largest ongoing community arts project in the world. Jack will create the panel with the participation of conference attendees. Living Positive By Design is a partnership with Merck that seeks to help combat the stigma associated with HIV by engaging people in thoughtful conversation about the disease and encouraging a positive outlook on life.
"I am honored to be bringing Living Positive By Design to USCA this year and excited to create a piece of living history for the AIDS Quilt. As a designer, I understand the therapeutic benefit of expression through art, and I hope that the Living Positive By Design panel inspires people to maintain a positive outlook on life," said Jack Mackenroth, who has been living with HIV for more than 20 years. "The Quilt is a powerful memorial that personalizes the fight against HIV and helps to fight the stigma associated with the disease - which is one of the goals of my partnership with Merck."
While in Orlando for USCA, Jack will also be meeting with several local AIDS service organizations to discuss his personal story, the Living Positive By Design campaign and the impact of HIV in Florida.
Since the launch of Living Positive By Design , Jack has visited 11 cities, brining the campaign's messages to cities hardest hit by the HIV epidemic. He will continue to raise awareness about HIV and AIDS throughout 2010, reaching 15 cities by December of this year. In addition to combating the stigma associated with HIV, the campaign also encourages people living with HIV to work with their doctor on an ongoing basis to select a treatment regimen that keeps their viral load at an undetectable level. For more information on Living Positive By Design , please visit: www.LivingPositiveByDesign.com .
Prevalence of HIV and AIDS
According to the Centers for Disease Control and Prevention (CDC), more than one million Americans are living with HIV and AIDS in the U.S. and more than 56,000 new people become infected every year. Florida has the third highest prevalence of HIV and AIDS cases in the United States, with almost 10,000 cases in Central Florida/Orlando area alone.
About Merck
Today's Merck is a global healthcare leader working to help the world be well. Merck is known as MSD outside the United States and Canada . Through our prescription medicines, vaccines, biologic therapies, and consumer care and animal health products, we work with customers and operate in more than 140 countries to deliver innovative health solutions. We also demonstrate our commitment to increasing access to healthcare through far-reaching policies, programs and partnerships. Merck. Be well. For more information, visit www.merck.com .
Forward-Looking Statement
This news release includes "forward-looking statements" within the meaning of the safe harbor provisions of the United States Private Securities Litigation Reform Act of 1995. Such statements may include, but are not limited to, statements about the benefits of the merger between Merck and Schering-Plough, including future financial and operating results, the combined company's plans, objectives, expectations and intentions and other statements that are not historical facts. Such statements are based upon the current beliefs and expectations of Merck's management and are subject to significant risks and uncertainties. Actual results may differ from those set forth in the forward-looking statements.
The following factors, among others, could cause actual results to differ from those set forth in the forward-looking statements: the possibility that the expected synergies from the merger of Merck and Schering-Plough will not be realized, or will not be realized within the expected time period; the impact of pharmaceutical industry regulation and health care legislation; the risk that the businesses will not be integrated successfully; disruption from the merger making it more difficult to maintain business and operational relationships; Merck's ability to accurately predict future market conditions; dependence on the effectiveness of Merck's patents and other protections for innovative products; the risk of new and changing regulation and health policies in the U.S. and internationally and the exposure to litigation and/or regulatory actions.
Merck undertakes no obligation to publicly update any forward-looking statement, whether as a result of new information, future events or otherwise. Additional factors that could cause results to differ materially from those described in the forward-looking statements can be found in Merck's 2009 Annual Report on Form 10-K and the company's other filings with the Securities and Exchange Commission (SEC) available at the SEC's Internet site ( www.sec.gov ).
###
Media Contacts:

Alison Brown
O: (212) 798-9811
M: (646) 584-1260
Alison.Brown@cohnwolfe.com

Lucia Jimenez
O: (212) 798-9513
M: (305) 319-0979
Lucia.Jimenez@cohnwolfe.com
For additional information on Living Positive By Design, visit: www.LivingPositiveByDesign.com
"Reproduced with permission - Living Positive By Design"
Living Positive By Design