Labels are for Cans Workshop, Stigma and Stereotyping of HIV/AIDS
by Tasha Riley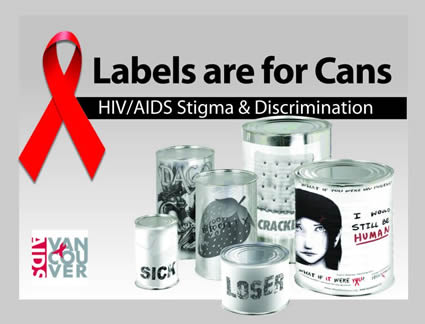 January 05, 2011
As part of AIDS Vancouver We Care Red Ribbon Month a series of presentations exploring the current reality of HIV/AIDS were given by Dr. Tasha Riley, Prevention and Education Coordinator for AIDS Vancouver
The workshop, "Labels are for Cans: HIV, Stigma and Stereotyping" , originally took place Tue, Nov 9th, during the We Care Red Ribbon Campaign at UBC Robson Square in downtown Vancouver.
Workshop Synopsis:
This session tracks some of more widely publicized cases of HIV/AIDS-related stigma and discrimination in North America and around the world since the early 1980s. The impact of such events is considered, and how individuals and communities living with or affected by the virus have joined together to counteract the ignorance that still exists today.
If you are interested in organizing your own workshop, please contact Tasha Riley at: tashar@aidsvancouver.org
Producer: Debbie Douez, Owner of Video4Web Productions. http://www.video4webproductions.com/V4W/Home.html
Workshop presented by AIDS Vancouver / CHIR (Canadian Institute for Health Research) and UBC Continuing Studies.