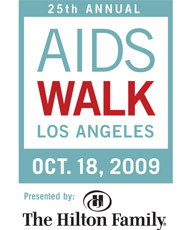 MARIO LOPEZ STEPS UP FOR 25TH ANNUAL AIDS WALK LOS ANGELES
ACTOR/DANCER/SINGER FILMS PUBLIC SERVICE ANNOUNCEMENT TO RAISE AWARENESS AND DRIVE SUPPORT FOR EVENT ON SUNDAY, OCTOBER 18
September 17, 2009 - Los Angeles , Calif., - AIDS Project Los Angeles (APLA) announced Tuesday the involvement of acclaimed actor/singer/dancer Mario Lopez in this year's AIDS Walk Los Angeles promotional campaign.
"We are delighted to have one of Hollywood's most versatile young stars with us to raise awareness for this year's milestone AIDS Walk ," said APLA Executive Director Craig E. Thompson. More than 30,000 are expected at this year's event, the 25th annual, on October 18.
"As a performer, Mr. Lopez has generously used his talents to support the AIDS community in the past," Thompson said, referring to Lopez's groundbreaking television portrayal of HIV-positive Olympic diving champion Greg Louganis. "As an activist, we are honored that he has lent his notoriety and energy to this vital event."
Lopez, who is currently the host of television newsmagazine Extra and MTV's America's Best Dance Crew, appears in the public service announcements (PSAs) promoting the Walk, which has raised more than $63 million for APLA and other Los Angeles County-based AIDS service organizations since its founding in 1985. The PSAs, shot on the Extra set, have begun airing on KNBC-TV and are available online via the AIDS Walk website (aidswalk.net), Facebook, Myspace, YouTube and other sites.
During the spot, Lopez emphatically conveys the message that although 25 years of AIDS Walks have yielded much progress and saved countless lives, "AIDS is still with us and we must continue the fight."
Craig R. Miller, Founder and Producer of AIDS Walk Los Angeles, sees Mr. Lopez's participation as an opportunity to mobilize a new generation to become active in the fight against AIDS. "There are things we must all do to confront the AIDS crisis in Los Angeles and throughout the United States. We appreciate Mario Lopez offering his voice to inspire our community, especially young people, to get involved in the AIDS Walk," said Miller.
AIDS Walk Los Angeles is marking its 25th year with a marketing campaign that reflects the event's long history and the people who have been critical to its success, including walkers and volunteers, celebrities, political supporters, and advocates. Marketing materials include images of walkers passing through the iconic arched gates at Paramount Studios, where the Walk first began; early celebrity supporters including Madonna, Jamie Lee Curtis, former Los Angeles Mayor Tom Bradley, and acclaimed songwriter and safer-sex pioneer Michael Callen, who was a regular performer at the early AIDS Walks, and who died of AIDS in 1993.
AIDS Walk Los Angeles will begin and end in the heart of West Hollywood at San Vicente Boulevard, between Melrose Avenue and Santa Monica Boulevards. The 10 kilometer (6.2 mile) route traverses the streets of both West Hollywood and Los Angeles.
About AIDS Project Los Angeles (APLA):
AIDS Project Los Angeles (APLA), one of the largest non-profit AIDS service organizations in the United States, provides bilingual direct services, prevention education and leadership on HIV/AIDS-related policy and legislation. With more than 25 years of service, APLA is a community-based, volunteer-supported organization with local, national and global reach.
For more information, visit apla.org.
About AIDS Walk Los Angeles:
Since 1985, AIDS Walk Los Angeles has raised more than $63 million for HIV programs and services throughout Los Angeles County, and has grown into one of the largest AIDS fundraising events in the country. In 2008 alone, 30,000 participants, many of whom were members of 1,400 corporate and community teams, raised $3 million for AIDS Project Los Angeles (APLA) and more than one dozen local AIDS service organizations.
For more information, visit aidswalk.net.
About MZA Events:
AIDS Walk Los Angeles was founded in 1985 by Craig R. Miller and his organization of activists, MZA Events. Miller is the originator of the AIDS Walk fundraising model and has produced hundreds of fundraising events - large and small - generating more than $350 million for major AIDS organizations throughout the country and the communities they serve.
For more information, please visit mzaevents.com.
###
Contacts::

Colin Weil
AIDS Walk Los Angeles
(213) 201-1348
colinw@mzaevents.com

Gabriel McGowan
AIDS Project Los Angeles
(213) 201-1521
gmcgowan@apla.org

"Reproduced with permission - AIDS Walk Los Angeles "
AIDS Walk Los Angeles