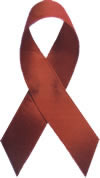 Tickets now on sale for the
7th annual "Passions" event at the Dr. Peter Centre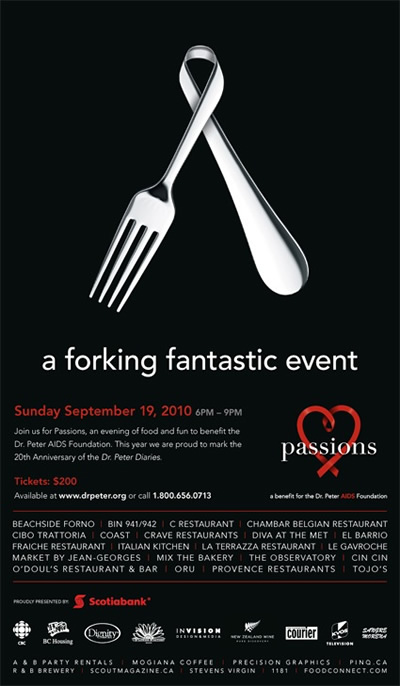 On September 19th, 21 of Vancouver's top restaurants will come together for an unforgettable evening of food and wine to benefit the Dr. Peter AIDS Foundation.
August 9, 2010 - Vancouver, BC - Since its inception in 2004, Passions - a Benefit for the Dr. Peter AIDS Foundation has earned a reputation as Vancouver's "Best Small Gala" and as one of Vancouver's top events for food and wine lovers . and this year will be better than ever!
21 of Vancouver's top restaurants will be taking part in this year's event, including: Beachside Forno, Bin 941/942, C Restaurant, Chambar, Cibo, Cin Cin, Coast, Crave, Diva at the Met, El Barrio, Fraīche, Italian Kitchen, La Terrazza, Le Gavroche, Market, MIX the Bakery, O'Doul's, Oru, Provence, The Observatory, and Tojo's.
The event will also feature a selection of wines courtesy of New Zealand Wine, beer from R&B Brewing Co., coffee from Mogiana Coffee, and a martini bar provided by 1181. There will be both a live and silent auction, as well as live entertainment throughout the evening by Sangre Morena.
Gloria Macarenko (CBC TV) will be joined by Sophie Lui (Global TV) as emcees for the evening and Vancouver's consummate man about town, Fred Lee (CBC Radio, Vancouver Courier) will serve as auctioneer.
This year's event holds special significance, as it marks the 20th anniversary of the Dr. Peter Diaries on CBC Television. Beginning on September 10th and carrying through until World AIDS Day on December 1st, the Dr. Peter AIDS Foundation will celebrate Dr. Peter's legacy and introduce their vision for the next 20 years with a series special events and engagements. Passions will serve as the central celebration during this important period.
Passions - A Benefit for the Dr. Peter AIDS Foundation
Date: Sunday, September 19th, 2010
Time: 6 pm to 9 pm
Where: Dr. Peter Centre
Address: 1110 Comox Street , Vancouver BC
Tickets: $200, available August 9th at www.drpeter.org or by calling 1.800.656.0713 (only 200 tickets available).
About the Dr. Peter AIDS Foundation

Since 1992, the Dr. Peter AIDS Foundation has continued the legacy of Dr. Peter Jepson-Young. The Dr. Peter Centre opened its doors in 1997 and cares for people living with HIV/AIDS. Operating a day health program and a 24-hour residence with palliative care and respite care services, it is the only program of its kind in Canada and is recognized as a leader in HIV/AIDS care. For more information on the Dr. Peter AIDS Foundation, the Dr. Peter Centre, and Passions, please visit www.drpeter.org.
About Passions

The history of Passions traces back to 2003, to a small charity cooking class at Barbara-Jo's Books to Cooks. A year later in 2004, the event was moved to the Dr. Peter Centre and christened "Passions." Organized by Nathan Fong, this inaugural event featured nine chefs, 100 attendees and raised $7000.. Under Nathan's continued stewardship, Passions has since over tripled in size and has become one of Vancouver's most popular food and wine events. 2009's event featured 20 chefs, 300 attendees and raised over $100,000. In total, Passions has raised over $500,000 since 2004.
Media Contact
Ryan Bazeley
604.505.7926
ryan@ryanbazeley.com

"Reproduced with permission - Dr. Peter AIDS Foundation"
Dr. Peter AIDS Foundation