HIV test results in 60 seconds
bioLytical Laboratories HIV/AIDS Mobile Testing campaign Test Your Commitment
The inaugural launch of the Test Your Commitment campaign in Vancouver on August 10th was a tremendous success, attracting hundreds of people to watch demonstrations of INSTIT Kit , witness live testimonials, and network with health care professionals and community group representatives. Through this three-city program, bioLytical hopes to bring increased awareness to HIV and the importance of being tested.
Special guests, Alison Lawton, Chair, UNICEF Canada Unite For Children, Unite Against Aids, sport figures Geoff Courtnall and Pat Quinn, and Bradford McIntyre who is living with HIV; all volunteered for INSTIT test demonstrations to illustrate the ease of the HIV test.

Test Your Commitment will also provide public awareness and fundraising support for Canada's Unite for Children, Unite Against AIDS campaign.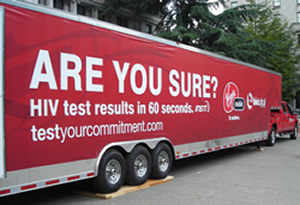 The INSTIBus, a 50 ft. long mobile testing trailer with 6 private testing stations will be travelling across Canada. Stopping in Vancouver, Toronto, and Montreal, this mobile unit will provide education on such topics as HIV testing, prevention and treatment.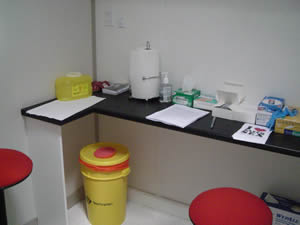 The mobile testing unit contains private rooms for individual counselling and testing. In addition to in-depth pre- and post-test counselling, the trained personnel will be able to provide any necessary referrals and address any concerns or questions. All tests will be administered under strict confidentiality. As an integral part of the Test Your Commitment project, the goal of this mobile campaign is to generate awareness of HIV and the ease of being tested with the now available INSTI 60-second HIV test in Canada.
bioLytical's INSTIT is the only rapid HIV test that is Health Canada approved for POC testing. At 60 seconds for a reading, INSTIT is the fasted diagnostic kit in the world.
Below are photos taken of Bradford's HIV test demonstration at the Vancouver stop of the Test Your Commitment campaign.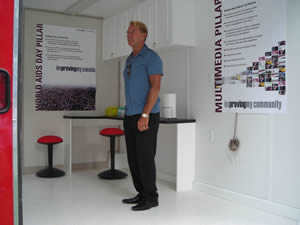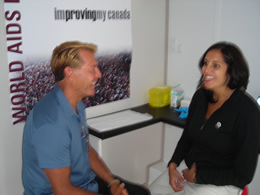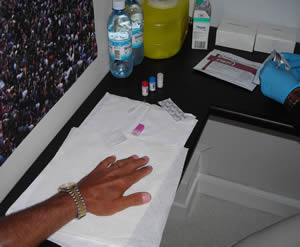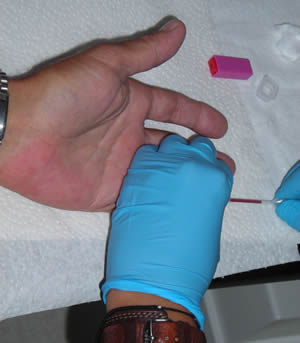 Test Your Commitment as bioLytical and Virgin Mobile Canada team up to raise awareness about HIV testing.