SOUTHWEST CENTER FOR HIV/AIDS RECEIVES $500,000 FROM GO DADDY
Go Daddy Women's Health Center to be a "National Model of Excellence for HIV/AIDS Prevention"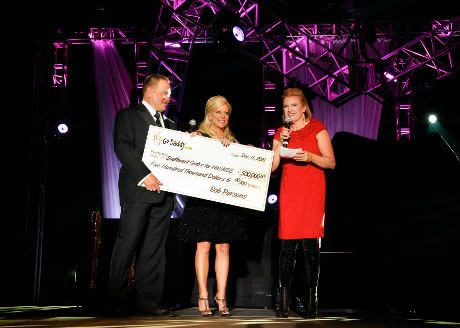 PHOENIX, Ariz., Dec. 13, 2010 - Southwest Center for HIV/AIDS received $500,000 from Go Daddy to launch the Go Daddy Women's Health Center in Phoenix. The gift was announced by Go Daddy CEO and Founder Bob Parsons at the company's annual holiday event held Saturday, December 11 at Chase Field in Phoenix. Parsons presented a 'big check' to Carol Poore, President and CEO, Southwest Center for HIV/AIDS.
"Go Daddy's investment will create a national model of excellence for HIV/AIDS prevention for women who are at high risk for the disease, many due to being in abusive or violent relationships with their spouses or partners," said Poore upon receiving the check. "This generous gift from Go Daddy will most certainly make a big difference in our efforts."
Parsons announced the donation in front of more than 5,000 employees and guests at the Go Daddy Holiday Party. "This is an important cause few people talk about," Parsons said before the big check presentation. "The issue of women living with HIV and AIDS doesn't get much publicity, but more than a quarter-million women and girls in this country are infected with HIV. We believe Go Daddy can make a difference and that the Go Daddy Women's Center will provide relief for many women suffering from this terrible disease."
In addition to helping create the facility, Go Daddy's donation will support the expansion of HIV/AIDS prevention and educational partnerships with local domestic violence shelters, and provides title sponsorship of the Southwest Center's 2011 Gala-Night for Life; home tour-Tour for Life; and restaurant event-Dining out for Life.
The Go Daddy Women's Health Center will be part of Southwest Center's new community health and education facility, to be partially funded by the City of Phoenix 2006 bond election and located at a new, central Phoenix location in 2011. Currently, Southwest Center for HIV/AIDS is located at 12th street and McDowell and serves 70 percent of Arizona's 14,000 residents impacted by HIV/AIDS including teens, men and women who are at-risk for the disease.
"Nearly half of the 40 million people living with HIV/AIDS in the world today are women, and globally, the fastest growing group of those newly infected with HIV are women," Poore noted.
In 2010, Southwest Center for HIV/AIDS provided educational presentations and support services to nearly 700 HIV-positive women as well as more than 550 women considered to be at-risk but not infected.
Currently, there is no cure for HIV infection or AIDS. It is a chronic illness and the virus stays in a person's body for the rest of his or her life. The virus has been treated with a combination of three different drugs which together work to keep the virus quiet so the immune system can stay strong. People with HIV must take medication at specific times and never miss doses. Following a physician's treatment plan is extremely important, which includes eating healthy foods, exercise, and lowering stress.
Southwest Center's mission is to lead the fight against HIV/AIDS by preventing the disease, by improving the quality of life for those who are impacted, and by contributing to worldwide research. Since 1988, Southwest Center has been on the front lines addressing a steady increase in the demand for HIV/AIDS testing and counseling, prevention education, wellness support services, and clinical trials to help Arizona men, women and teens impacted by the disease.
For more information about programs for women at Southwest Center for HIV/AIDS, visit the website at www.swhiv.org or contact Emily Mead at: emead@swhiv.org or 602.307.5330, Ext. 2241.
###
About Southwest Center for HIV/AIDS:
Southwest Center's mission is to lead the fight against HIV/AIDS by preventing the disease, by improving the quality of life for those who are impacted, and by contributing to worldwide research. Since 1988, Southwest Center has been on the front lines addressing a steady increase in the demand for HIV/AIDS testing and counseling, prevention education, wellness support services, and clinical trials to help Arizona men, women and teens impacted by the disease .www.swhiv.org
Contact:
Emily Mead
PR/Marketing Coordinator
Southwest Center for HIV/AIDS
602.307.5330 x2241
emead@swhiv.org