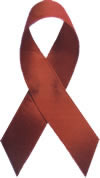 SUITS
2nd ANNIVERSARY DINNER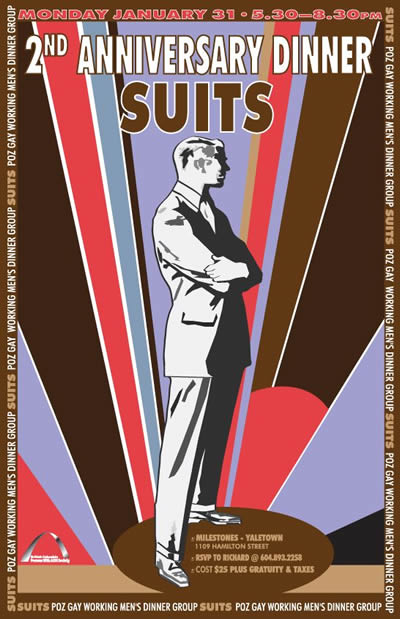 SUITS POZ GAY WORKING MEN'S DINNER GROUP
Come and celebrate SUITS second anniversary!
When: Monday, January 31, 5:30 - 8:30
Where: Milestone's Grill and Bar in Yaletown (1109 Hamilton Street) Vancouver, BC
Price is $25 a seat.
Please RSVP with Richard richardh@bcpwa.org.
Started in January 2009, the SUITS POZ GAY WORKING MEN'S DINNER GROUP began in response to a need for a support program for HIV-positive working men. The program, run by and for gay poz working guys, is part of the British Columbia Person's With AIDS Society (BCPWA) Wellness Promotion Programs.


dinner menu
choice of shareable appetizer - 1 per 2 Guests
milestones' famous hot spinach & artichoke dip - the original - Creamy spinach dip with artichoke hearts and imported Italian cheeses. Served with sour cream, fresh-cut salsa and warm red tortilla chips

yam frites - Shoestring yam frites served with our house-made chipotle aioli. Great for sharing!

crispy honey phyllo shrimp - Crispy coated shrimp lightly fried and served with our honey chipotle glaze for dipping

roasted garlic caesar - entrée size - House-made Ciabatta croutons, Reggiano cheese, our signature Caesar dressing. Topped with shaved Asiago cheese and roasted garlic

mediterranean bruschetta flatbread - With ripe Roma tomatoes, wilted Arugula, Feta cheese, fresh basil and a balsamic reduction

choice of entrée
grilled mediterranean chicken - Grilled chicken breast, layered with Goat cheese, on a bed of Asian greens, chickpeas, roasted grape tomatoes, pomegranate molasses

certified angus beef® top sirloin - With trio of signature steak sauces: House-made Worcestershire, Spiced mustard and Gaucho sauce. Served with garlic mashed potatoes and seasonal vegetables grilled

sweet soy salmon - Our premium Wild Pacific Coho salmon grilled, then brushed with our sweet soy sesame glaze. Served with seasonal vegetables and jasmine rice with infused basil oil and cilantro

california spring salad - Baby greens, mild Goat cheese, fresh sliced strawberries, red onion, spicy-glazed pecans with your choice of grilled chicken breast or fire-grilled garlic shrimp skewer

pan seared scallops - With braised bok choy and red peppers in a yellow Indian curry sauce, served over jasmine rice with infused basil oil and cilantro

dessert
a taste of apple crisp - Slivered apples stewed with brown sugar, ginger and spices. Topped with premium vanilla gelato, buttery caramel and walnut crumble

COST $25 PLUS GRATUITY & TAXES.