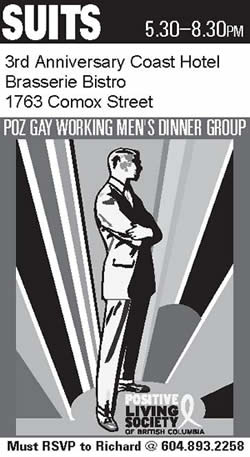 SUITS - POZ WORKING MEN'S DINNER GROUP 3rd Anniversary
Come and celebrate our 3rd Anniversary.
January 30, 2012 -
Brasserie Bistro, Coast Plaza Hotel
This month we visit Brasserie Bistro, Coast Plaza Hotel, 1763 Comox Street, Vancouver, which is offering 50% off regular prices on this evening.
This monthly dinner, takes place at a restaurant in the Vancouver area on the last Monday of each month, and offers working men a chance to build community and combat isolation and stigma. SUITS provides a forum where HIV poz men can meet other professionals, network and have a positive influence on the community.
Time:
Monday January 30, 2012
5:30-8:00PM
Brasserie Bistro
1763 Comox Street
Vancouver, BC
RSVP to Richard @ 604-893-2258
SUITS is part of the Positive Living BC Society of British Columbia Support Departments' Wellness Promotion programs.



POSITIVE LIVING BC is dedicated to empowering persons living with HIV/AIDS through mutual support and collective action. We are a Registered Non-profit Society (#11928-2085) and an established leader in the HIV/AIDS movement. Uniquely among major agencies in Canada, the POSITIVE LIVING BC Board of Directors is composed entirely of HIV+ members.

Formerly known as the British Columbia Persons With AIDS Society (BCPWA) and with a membership of more than 5,000 HIV+ members, we are Western Canada's largest AIDS service organization and a proud history spanning three decades.