Smoke & Mirrors:
UNCOVERING THE TRUTH
ABOUT HIV & SMOKING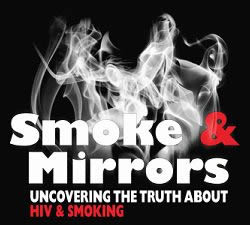 August 11, 2011 - Did you know that people with HIV are up to three times as likely to smoke tobacco?
POSITIVE LIVING BC along with Viiv/Shire would like to invite you to join us for our upcoming Community Forum entitled Smoke and Mirrors: Uncovering the truth behind HIV and Smoking.
With perspectives from all angles - medical, community and personal - this event will provide an informative opportunity to ask questions and ignite discussions.
Presenters:
Dr Greg Bondy
Shelly Tognazzini
Joanne Schwartz, MSW
Andrea Potter
Date: Tuesday, 16 August 2011 - 6:00pm - 8:00pm

Cost: Free and open to all. Dinner provided.

Location: Best Western Chateau Granville, Granville Street, Vancouver.

Contact: Space is limited!

RSVP by August 12th to jenm@positivelivingbc.org or 604.893.2239
###
About POSITIVE LIVING BC

POSITIVE LIVING BC is dedicated to empowering persons living with HIV/AIDS through mutual support and collective action. We are a Registered Non-profit Society (#11928-2085) and an established leader in the HIV/AIDS movement . Uniquely among major agencies in Canada, the POSITIVE LIVING BC Board of Directors is composed entirely of HIV+ members.
Formerly known as the British Columbia Persons With AIDS Society (BCPWA) and with a membership of more than 4,800 HIV+ members, we are Western Canada's largest AIDS service organization and a proud history spanning three decades.