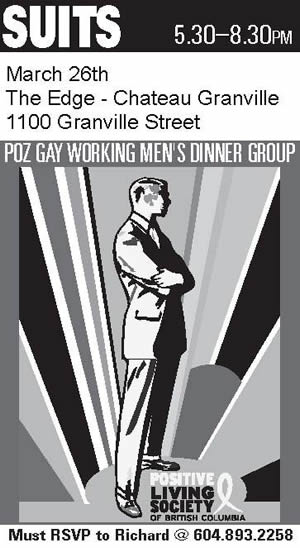 Suits Dinner
March 26th 2012
- The Edge Chateau Granville
SUITS - POZ WORKING MEN'S DINNER GROUP
Join other working guys on March 26th at The Edge on Chateau Granville 1100 Granville Street. One of our beloved volunteers for SUITS, Ian Nelson (and Positive Living BC employee) is moving on to Montreal with his partner Tony in April, you can wish them all the best in their new venture at this SUITS dinner. Please RSVP richardh@positivelivingbc.org
This monthly dinner, takes place at a restaurant in the Vancouver area on the last Monday of each month, and offers working men a chance to build community and combat isolation and stigma. SUITS provides a forum where HIV poz men can meet other professionals, network and have a positive influence on the community.


Monday March 26th
5:30-8:00PM
The Edge - Chateau Granville
1100 Granville Street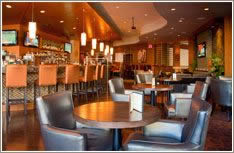 The Edge Social Grille & Lounge sets us apart from the other downtown hotels. Vancouver is home to a number of world-class dining options, and The Edge lives up to that reputation with its focus on delivering a unique experience with a lively ambiance and a varied menu with bold twists on classic dishes. Completing your dining experience is an unrivalled level of service that is focused solely on you. For more information and to view menus, visit The Edge Social Grille & Lounge online.

RSVP richardh@positivelivingbc.org


SUITS is part of the Positive Living BC Society of British Columbia Support Departments' Wellness Promotion programs.



POSITIVE LIVING BC is dedicated to empowering persons living with HIV/AIDS through mutual support and collective action. We are a Registered Non-profit Society (#11928-2085) and an established leader in the HIV/AIDS movement. Uniquely among major agencies in Canada, the POSITIVE LIVING BC Board of Directors is composed entirely of HIV+ members.

Formerly known as the British Columbia Persons With AIDS Society (BCPWA) and with a membership of more than 5,000 HIV+ members, we are Western Canada's largest AIDS service organization and a proud history spanning three decades.