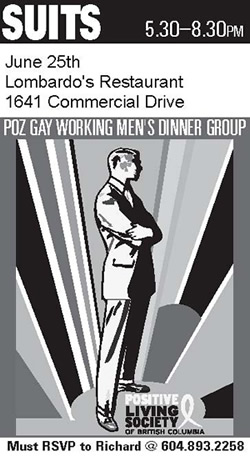 Suits
Dinner Monday June 25th Lombardo's
SUITS - POZ WORKING MEN'S DINNER GROUP
Patti Lombardo opened Lombardo's in 1986. For 25 years she has served up some of the best pizza in the city. Many awards and accolades have been attributed to the Napolateana style of wood-oven pizza. Long standing affecienados come to enjoy the thin crisp pizza cooked to perfection. The use of fresh, local ingredients lend themselves to a high quality pizza.
Commercial Drive has been the scene for many years, and Lombardo's has witnessed changes over the years. The Italian community has evolved into a multi-cultural experience offering culinary and cultural gems for those who join the many who stroll the Drive to eat or shop.
Come to see the restaurant tucked into a corner of a mall that never lived up to it's reputation. The menu stands up to it's reputation. 25 years and going strong.
This monthly dinner, takes place at a restaurant in the Vancouver area on the last Monday of each month, and offers working men a chance to build community and combat isolation and stigma. SUITS provides a forum where HIV poz men can meet other professionals, network and have a positive influence on the community.
RSVP richardh@positivelivingbc.org


SUITS is part of the Positive Living BC Society of British Columbia Support Departments' Wellness Promotion programs.



POSITIVE LIVING BC is dedicated to empowering persons living with HIV/AIDS through mutual support and collective action. We are a Registered Non-profit Society (#11928-2085) and an established leader in the HIV/AIDS movement. Uniquely among major agencies in Canada, the POSITIVE LIVING BC Board of Directors is composed entirely of HIV+ members.

Formerly known as the British Columbia Persons With AIDS Society (BCPWA) and with a membership of more than 5,000 HIV+ members, we are Western Canada's largest AIDS service organization and a proud history spanning three decades.