The C Word
- The Search for a Cure for HIV/AIDS
a community Forum on research and advocacy
Tuesday March 20, 6:00 PM,
Holiday Inn Express Downtown
Nashville, Tennessee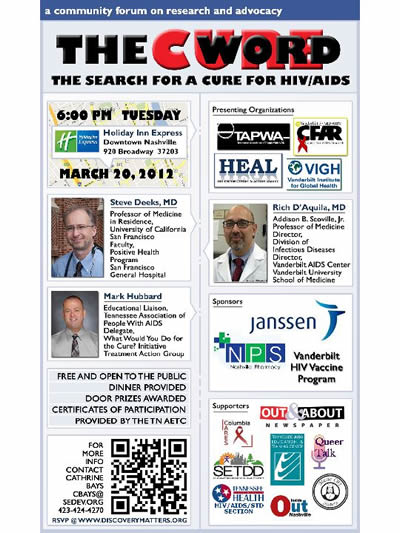 The C Word will be a highly accessible and interactive discussion about renewed efforts to find a functional cure. Two internationally recognized researchers will be on hand to share their insights.
Steve Deeks will discuss the various major avenues of current research. Dr. Deeks has enrolled "the Berlin patient," Timothy Ray Brown, in ongoing studies based at the University of California San Francisco.
Nashville's own Rich D'Aquila will explain the role of local research in this quest. Dr. D'Aquila is the director of the Vanderbilt Meharry Center for AIDS Research.
FREE AND OPEN TO THE PUBLIC
DINNER PROVIDED
DOOR PRIZES AWARDED
CERTIFICATES OF PARTICIPATION PROVIDED BY TN AETC
###
Source: www.discoverymatters.org
Contact:
Mark Hubbard
Educational Liaison, Tennessee Association of People With AIDS (TAPWA) Convener, HIV Empowerment & Action League (HEAL)
Nashville TN 615-715-1517 C