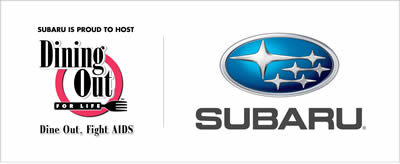 TwEAT Out, Fight AIDS - April 29, 2010
Become Part of the World's Largest Dining Experience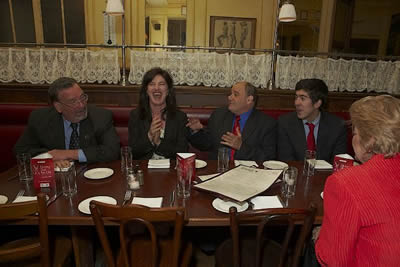 March 15, 2010 - Philadelphia, PA - Just planning a meal with family or friends on April 29th, 2010 is a unique opportunity to do something good for your community that is satisfying, fun, and possibly "record setting." Subaru is proud Host Sponsor of Dining Out For Life®, an annual fundraiser held in over 50 cities and nearly 3,000 restaurants across North America. Subaru is rallying support of this great cause via social media in a campaign called TwEAT Out, Fight AIDS!
Here is how to participate: In the weeks leading up to Dining Out For Life, participants will be asked to register on www.diningoutforlife.com, make a reservation at a participating restaurant on April 29, and then to TwEAT about it. TwEAT (Tw-EET) Adj. Def: To use social media utilities like Twitter® or FaceBook® while planning or eating a meal (Especially pertaining to HIV/AIDS fundraiser Dining Out For Life®.) All registrants will be counted in an effort to set a world record for the Largest Day of Dining Out!
Cyber-service is an evolving trend with the growing number of people who utilize social media as a networking hub. "We are hoping to connect Dining Out For Life in a significant way with many who are responsive to cause-related action," stated Tim Mahoney, CMO Subaru of America. "We plan to link followers of social media and fans of Dining Out For Life to encourage participation in this event off-line, in real-time, in an effort to raise even more awareness and needed funds." Last year over 250,000 participants helped raise nearly $4 million dollars in just one day of dining. All monies raised in each city, stay in that city. With a successful viral campaign, organizers expect to exceed these numbers.
Dining Out For Life has gained the support of three superb advocates of the cause: Ted Allen, host of Food Network's primetime series, Chopped is national spokesperson and this year will be joined in this role by film and TV actress, Pam Grier (Foxy Brown, The L Word and Smallville). Felipe Rose, singer and Native American Indian of the World Famous Village People has volunteered to lead the TwEAT OUT social media crusade.
Helping to promote this meaningful event are: Host Sponsor, Subaru of America and Partners CBS Station Groups, Dining Out Magazine, Kimpton Hotels and Restaurants, Open Table.com and Yelp! Numerous regional sponsors also provide crucial support to the event in each city. Follow us on-line: www.diningoutforlife.com; twitter.com/DineOut4Life and on FaceBook.com/DineOut4Life. For a complete list of participating cities visit www.diningoutforlife.com and mark your calendar to Dine Out on Thursday, April 29th.
###
About Dining out For Life International: Dining Out For Life® is an international fundraising event involving the generous participation of volunteers, corporate sponsors and restaurants. In exchange for their financial support, restaurants are promoted in an effort to increase customer traffic. In 1991, Dining Out For Life was created by an ActionAIDS volunteer in Philadelphia. Dining Out For Life is now held in 50+ cities throughout North America. For more information see diningoutforlife.com
About Subaru of America, Inc.
Subaru of America, Inc. is a wholly owned subsidiary of Fuji Heavy Industries Ltd. of Japan. Headquartered in Cherry Hill, N.J., the company markets and distributes Subaru Symmetrical All-Wheel Drive vehicles, parts and accessories through a network of nearly 600 dealers across the United States. Subaru boasts the most fuel efficient line-up of all-wheel drive products sold in the market today based on Environmental Protection Agency (EPA) fuel economy standards. All Subaru products are manufactured in zero-landfill production plants and Subaru of Indiana Automotive Inc. is the only U.S. automobile production plant to be designated a backyard wildlife Habitat by the National Wildlife Federation.
Contact:
Elana Scheier
"15 Minutes" Inc.
E-Mail: elana@15minutesinc.com elana@15minutesinc.com

"Reproduced with permission - Dining Out For Life® "
Dining Out For Life®