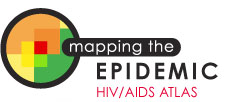 Video: National Minority Quality Forum Launches First U.S. HIV/AIDS Atlas
MapHIV.org Shows Vast Majority of Nation's HIV Burden Clustered in Only 20% of Counties
WASHINGTON, D.C. - June 22, 2009 - /PRNewswire/ - The National Minority Quality Forum today launched a groundbreaking HIV/AIDS Atlas (http://www.MapHIV.org) that highlights the impact of the HIV/AIDS epidemic in communities across the United States. The Atlas makes information on HIV/AIDS prevalence rates available in a single location for the first time, painting a comprehensive picture of the varying intensity of the epidemic across the country.
The HIV/AIDS Atlas is being released in advance of National HIV Testing Day (June 27), to highlight the growing need for increased HIV screening efforts in communities that are suffering disproportionately from the disease. Currently, 20 percent of HIV-positive Americans-approximately 220,000 individuals-are unaware of their infection. People with undiagnosed HIV infection are not receiving life-saving therapies, and it is estimated that they may unknowingly transmit up to 70 percent of new infections in the United States.
"We began this project with a desire to fill a fundamental gap in public access to HIV/AIDS information," said Gary Puckrein, Ph.D., President and Chief Executive Officer of the National Minority Quality Forum. "Mapping the disease made visible health disparity zones around the country. It is an important step in increasing awareness and stemming the tide of the epidemic. Now that we can see more clearly where the problem is, we can improve data collection and analysis, prevention initiatives, early diagnosis and routine testing efforts in the hardest hit communities."
Highlights from the Atlas include the following:


The HIV/AIDS epidemic is concentrated in approximately 20 percent of American counties (556 counties of the 3,027 counties for which data were provided to the National Minority Quality Forum).

The HIV/AIDS epidemic is widespread among two-thirds of the predominantly minority counties (comprising African Americans, Hispanics, Asians and Pacific Islanders) for which data were provided to National Minority Quality Forum.

Atlas users can view the epidemic in New York City at the zip code level. This vantage suggests that the disease clusters in small geographic areas in the United States.
Using cutting-edge technology, the National Minority Quality Forum developed the HIV/AIDS Atlas from data provided by HIV/AIDS surveillance branches within state and territorial departments of health in all 50 states, the District of Columbia, Puerto Rico, the U.S. Virgin Islands and New York City. The Atlas presents county-level prevalence rates based on the reported numbers of people living with HIV (non-AIDS) and AIDS in 2006. Users of the Atlas can map available data in multiple ways, including by age, gender and race/ethnicity. They can also view their congressional and state legislative districts overlaid on the county-level HIV/AIDS prevalence maps.
This is the first edition of what the National Minority Quality Forum plans to be an evolving tool. Upcoming versions of the HIV/AIDS Atlas may include: revised HIV/AIDS information from national, state and local HIV/AIDS surveillance departments; a greater representation of county- and zip code-level data; and information about the locations of HIV-testing centers, by zip code and county, among other features.
The HIV/AIDS Atlas is a project of the National Minority Quality Forum, with support from Gilead Sciences, Inc.
About HIV/AIDS in the United States
HIV/AIDS is a serious public health threat in the United States. The Centers for Disease Control and Prevention (CDC) estimates that more than 1.1 million people are living with HIV in the U.S., and data released last year show that the annual number of new HIV infections is approximately 40 percent higher than previously estimated, with more than 56,000 infections occurring each year. In an effort to prevent new HIV cases and allow for timely initiation of therapy among those living with the disease, CDC issued new guidelines for HIV screening in 2006, which recommend that HIV tests be a routine part of medical care for all persons ages 13 to 64. Earlier this year, the White House and CDC launched a landmark five-year HIV/AIDS public-awareness campaign, "Act Against AIDS," which will provide information about testing and prevention. It is the first campaign of its kind in more than a decade.
About the National Minority Quality Forum
The National Minority Quality Forum (http://www.nmqf.org) was founded in 1998 as a nonprofit organization. Its mission is to strengthen national and local efforts to eliminate the disproportionate burden of premature death and preventable illness in racial and ethnic minorities and other special populations through the use of evidence-based, data-driven initiatives, including a series of health atlases like the HIV/AIDS Atlas (http://www.MapHIV.org).
National Minority Quality Forum Media Contact:

800-319-3934
Media@MapHIV.org
SOURCE: PRNewswire
http://sev.prnewswire.com/infectious-disease-control/20090622/NY3600422062009-1.html