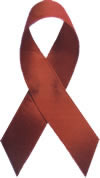 May 2008
VISUAL AIDS and THE BODY announces NEW WEB EXHIBITION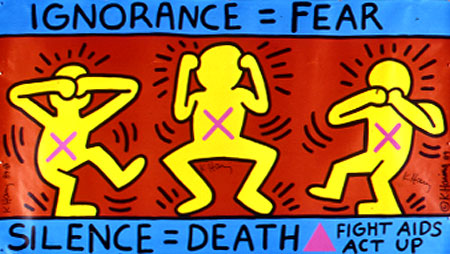 image: Keith Haring, Ignorance = Fear, Silence = Death, 1989
Courtesy of the Estate of Keith Haring


Linear Progression / Progressive Deterioration
curated by Steven Gordon and RJ Supa

VISUAL AIDS WEB GALLERY at http://www.thebody.com/visualaids/web_gallery/index.html

Every month, Visual AIDS invites guest curators, drawn from both the arts and AIDS communities, to select several works from the Frank Moore Archive Project. For May, Steven Gordon and RJ Supa co-curated the on-line exhibition which features the artwork of Archive Members; Michael Borosky, Jack Brusca, Curtis Carman, Tim Greathouse, Frank Green, Max Greenberg, Carlos Gonzalez, Felix Gonzalez-Torres, Ken Goodman, Keith Haring, Jerry Hooten, horea, W. Benjamin Incerti, David Nelson, Richard Sawdon-Smith, Ferenc Suto, David Wojnarowicz, Tal Zargarhoff, and Rodrigo Zuniga.

From the Curators' Statements:
The work I have chosen all represents a vanishing act. From the haunting images of Felix Gonzalez-Torres and Richard Sawdon-Smith to the, nowadays, non-existent ACT UP posters that I loved so much to the thousands of friends, family and amazing artists that we have lost. MY QUEER CULTURE IS VANISHING. -- RJ Supa

... I want this gallery to represent, hope. From my perspective, this exhibition is a linear story, that represents basic human emotions in the face of any true obstacle; fear, denial, anger, and hope. The resilience of the human spirit never ceases to amaze me. -- Steven Gordon



Curators:
Steven Gordon is currently the HIV Services Coordinator at the Ali Forney Center. He also works as a consultant for Hudson Pride Connections; a LGBT community center in Jersey City where he acts as an advisor and provides consultation in areas of staff trainings and clients issues for the growing organization, and started his work in HIV services with Body Positive.

RJ Supa is a conceptual and performance artist living in Brooklyn, NY. Additionally he works at the Ali Forney Center, a homeless services agency for LGBT youth.

The Ali Forney Foundation's mission is to help homeless LGBT youth be safe and become independent as they move from adolescence to adulthood. AFC is the nation's largest and most comprehensive organization dedicated to homeless LGBT youth. The AFC goal is to provide homeless LGBT youths, aged 16-24, with the support and services they need to escape the streets and begin to live healthy and independent lives. www.aliforneycenter.org



Visual AIDS was founded in 1988, to shift public opinion about--and increase awareness of--AIDS and the AIDS crisis. Visual AIDS has evolved into an arts organization with a two-pronged mission: 1) In collaboration with museums, galleries, artists, schools, and AIDS service organizations, Visual AIDS produces exhibitions, publications, and events utilizing visual art to spread the message AIDS IS NOT OVER.; 2) Through the Frank Moore Archive Project, the largest slide library of work by artists living with HIV and the estates of artists who have died of AIDS, Visual AIDS historicizes the contributions of visual artists with HIV while supporting their ability to continue making art and furthering their professional careers. www.visualAIDS.org

The Body is now the most frequently visited HIV/AIDS-related site on the Web, according to the Medical Library Association and also the most frequently visited disease-specific site on the Web, according to <Hot 100>. The Body contains a rich collection of information on topics ranging from HIV prevention, state-of-the-art treatment issues, humor and art. An invaluable resource, The Body is used by clinicians, patients and the general public. Part of The Body's mission is to enable artistic expression to reach the Web, and to join art with other resources needed to help the public comprehend the enormity and devastation of the AIDS pandemic and to experience its human and spiritual dimensions.

Current and past Web Gallery exhibitions can be viewed at: www.thebody.com/visualaids
***For more information contact either: ***

Visual AIDS
Amy Sadao, Executive Director
Nelson Santos, Associate Director
212.627.9855
info@visualAIDS.org

The Body
Bonnie Goldman, Editorial Director
www.TheBody.com
212.541-8500 ext. 206
BGoldman@TheBody.com