December 2007
VISUAL AIDS AND THE BODY ANNOUNCE NEW WEB EXHIBITION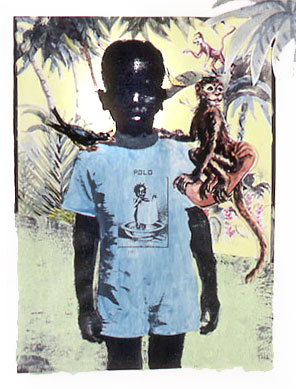 image: Frederick Weston, Little Black Sambo series, 2000
You're My New Orleans curated by Derek Jackson
VISUAL AIDS WEB GALLERY at http://www.thebody.com/visualaids/web_gallery/index.html
Every month, Visual AIDS invites guest curators, drawn from both the arts and AIDS communities, to select several works from the Frank Moore Archive Project. For AIDS Awareness month in Decembeer, Derek Jackson curated the current on-line exhibition which features the artwork of Archive Members Stephen Andrews, Curtis Carman, Vincent Cianni, Felix Gonzalez-Torres, John Morrison, Mark Morrisroe, Paul Thek, Frederick Weston, Martin Wong and David Wojnarowicz.
From the Curators' Statement:

You're My New Orleans. The title of this web exhibit comes from a song by David Deporis. It's a beautiful song ... a lullaby. There's something synaesthetic going on here for me ... I look at these works and I hear this song ... a song that I could imagine singing to my one true love...There were so many directions I could have taken -- themes and filters I could have implemented to come up with a curatorial vision. But in the end, I just let myself do what I always wish for and dream about most: I fell in love.
Curator:

Derek Jackson is a visual artist and performer living in Portland, Maine, and New York City. He is the founder and creative director of Hung Magazine, published by Sur Rodney (Sur) and a member of the gogocuntrypunkmashupelectrohouse ensemble Daisy Spurs. His work was most recently featured in a video program at CRG Gallery curated by Angela Dufresne and is included in the December 2007 exhibition "Framing AIDS" curated by Hector Canonge at the Queens Museum of Art. Jackson is a recipient of numerous awards including: the Brooklyn Arts Council, The Djerassi Artist Residency Program, and Momenta Arts. He is a graduate of the Experimental Theater Wing at New York University's Tisch School of the Arts as well as the City University of New York at Brooklyn College.
Visual AIDS was founded in 1988, to shift public opinion about--and increase awareness of--AIDS and the AIDS crisis. Visual AIDS has evolved into an arts organization with a two-pronged mission: 1) In collaboration with museums, galleries, artists, schools, and AIDS service organizations, Visual AIDS produces exhibitions, publications, and events utilizing visual art to spread the message AIDS IS NOT OVER.; 2) Through the Frank Moore Archive Project, the largest slide library of work by artists living with HIV and the estates of artists who have died of AIDS, Visual AIDS historicizes the contributions of visual artists with HIV while supporting their ability to continue making art and furthering their professional careers. www.visualAIDS.org
The Body is now the most frequently visited HIV/AIDS-related site on the Web, according to the Medical Library Association and also the most frequently visited disease-specific site on the Web, according to . The Body contains a rich collection of information on topics ranging from HIV prevention, state-of-the-art treatment issues, humor and art. An invaluable resource, The Body is used by clinicians, patients and the general public. Part of The Body's mission is to enable artistic expression to reach the Web, and to join art with other resources needed to help the public comprehend the enormity and devastation of the AIDS pandemic and to experience its human and spiritual dimensions.
Current and past Web Gallery exhibitions can be viewed at: www.thebody.com/visualaids
***For more information contact either: ***

Visual AIDS
Amy Sadao, Executive Director
Nelson Santos, Associate Director
212.627.9855
info@visualAIDS.org

The Body
Bonnie Goldman, Editorial Director
www.TheBody.com
212.541-8500 ext. 206
BGoldman@TheBody.com
"Reproduced with permission - Visual AIDS"
Visual AIDS