Voices of Hope World AIDS Day Concert
TO BENEFIT THE DR. PETER AIDS FOUNDATION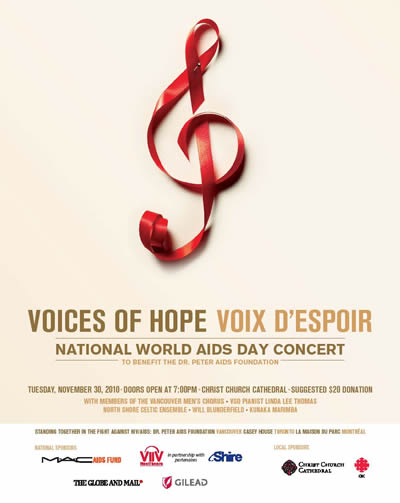 November 28, 2010 - Vancouver, BC. - The Dr. Peter AIDS Foundation invites you to our third annual Voices of Hope concert - an evening of remembrance and celebration on the eve of World AIDS Day, sponsored by MAC AIDS Fund, ViiV Healthcare, Gilead, Merck, The Globe and Mail, CBC and the Westender.
Hosted by Bill Richardson, performances include Dr. Peter's Affirmation by the Vancouver Men's Chorus marking the 20th Anniversary of the Dr. Peter Diaries, along with Will Blunderfield, Linda Lee Thomas, Kunaka Marimba and The North Shore Celtic Ensemble.
Tuesday, November 30, 2010 at Christ Church Cathedral on the corner of West Georgia and Burrard (accessible ramp at southeast entrance). Doors open at 7pm. Admission by donation; Dr. Peter Ambassadors are invited to attend free of charge.
For more information or to RSVP, contact events@drpeter.org
Patrick McDougall
Project & Communications Officer
D: 604.331.5081
C: 778.689.8448

Dr. Peter AIDS Foundation
1110 Comox Street, Vancouver, BC, V6E 1K5
T: 604.608.1874
F: 604.608.4259
www.drpeter.org