WHO calls for united action to combat HIV/AIDS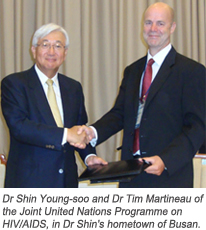 BUSAN, Republic of Korea, 5 September 2011- "Diverse Voices, United Action" was the rallying cry at the recently concluded 10th International Congress on AIDS in Asia and the Pacific held in Busan, Republic of Korea.
The signing of a Memorandum of Understanding between WHO Western Pacific Regional Office and the UNAIDS Regional Support Team highlighted the event, which sought to strengthen and encourage collaborative activities, facilitate the pooling of expertise and resources, and harmonize and intensify country support.
Dr Shin Young-soo, WHO Regional Director for the Western Pacific, and Dr Tim Martineau of the Joint United Nations Programme on HIV/AIDS signed the memorandum of understanding.
More than 2500 people from 64 countries attended the conference, making it the world's second-largest forum on HIV/AIDS as it marked the 30th year since the first case of AIDS was identified.
At the AIDS Champions' Meeting held prior to the conference, Dr Shin highlighted WHO's role in HIV prevention, treatment and care in supporting United Nations Millennium Development Goal 6, which focuses in combating HIV/AIDS.
"There are remarkable advances in treating HIV. Millions of people with HIV can live long, productive lives if they have access to the means to do so," Dr Shin said. "But there are challenges in achieving universal access to prevention, treatment and care. These challenges are political, financial, logistical, legal, social and cultural."
###
Source: World Health Organzation