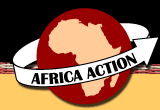 AIDS Activists to Obama and Fenty: Your Decisions are Failing People Living with HIV
"Funeral" Staged at White House, Creative Action At DC's City Hall: 12 noon Assembly at Lafayette Park
(Washington, DC) - On World AIDS Day, December 1 2009, AIDS activists gathered in front of the White House and then marched to DC's Wilson Building with a clear message for President Obama and Mayor Fenty: "maintain the current, flawed course and millions will die-or fix the system and they will live."
In front of the White House the activists staged a funeral procession, presided over by Rev. Jeffrey Jordan of Philadelphia and Rev. Carolyn Boyd of Washington, DC. The somber funeral revealed the human impact of President Obama's planned flat-lining of global AIDS funding in next year's budget. Without promised funding increases, thousands will be denied access to AIDS treatment. According to a recent WHO report, HIV is now the number one killer of women of reproductive age worldwide. Global AIDS groups on Monday gave President Obama a "D+ " having failed to deliver new funding promised when he was running for President.
Activists then marched to the John A. Wilson Building, seat of the DC government, to demand action from the Mayor and City Council. In a creative display of street theater, the group demonstrated how deeply the health system is failing people living with HIV in the District of Columbia. Local AIDS activists say that while progress has been made under Director of the HIV/AIDS Administration Dr. Shannon Hader, the Fenty Administration still lacks a plan turn the tide of the epidemic and has made insufficient progress in correcting the impact of years of neglect. For example, neither the District nor the federal Department of Housing and Urban Development have a plan to house the hundreds of homeless people who are currently sick with complications from AIDS and who have languished on a waiting list for years while funding was mismanaged.
Jose De Marco of ACT UP Philadelphia and Health GAP stated: "Many of us around the world living with HIV had the highest of hopes for President Obama when he promised major new funding for global AIDS. In this year's budget he didn't include that funding. Money for bankers and war gets priority, but we can't put one half of one percent of that into lives and communities hanging in the balance in Africa, Asia, and the Caribbean?"
Larry Bryant, co-chair of DC Fights Back said: "We keep hearing about 'wake-up calls'-as our city leaders are 'shocked' and 'appalled' at the severity of our epidemic and poor use of funds. But how many wake up calls do we need to see the system is failing? Where is the emergency plan to address the full breadth of the epidemic and where are the city funds to house the hundreds of homeless people living with AIDS languishing on waiting lists for years?"
Gerald LeMelle, Executive Director of Africa Action stated: "Already, we are hearing of reports that in several countries in Africa the waiting lists are growing and clinics being forced to turn away patients due to lack of promised funding. As the continent of Africa is beginning to see results in the fight against its biggest killer, it would be disastrous for the U.S. to abandon its promise to continue expanding its support to human rights and Universal Access to treatment, care and prevention."
The event was sponsored by: DC Fights Back, ACT UP Philadelphia, the Campaign to End AIDS, Health GAP, Women's Collective; START at Westminster, National AIDS Housing Coalition, Metropolitan Washington Public Health Association, Housing Works, Universal Fellowship of Metropolitan Community Churches, Positive Places and Women of Color United, and Africa Action.
###
Contact:

Lola Adele-Oso, DC Fights Back, lola@nationalaidshousing.org , 202.288.7866
Jennifer Flynn, Health GAP, jflynn@healthgap.org , 917.517.5202

Michael Stulman, Africa Action, michael.stulman@africaaction.org 202.469.9542
Reproduced with permission - "Africa Action "
Africa Action