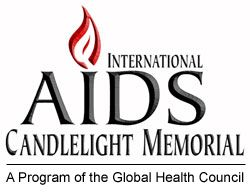 Worldwide HIV/AIDS Grassroots Mobilization Event on May 17
May 13, 2009 - The 2009 International AIDS Candlelight Memorial, the world's oldest and largest grassroots mobilization campaign addressing HIV/AIDS, will be celebrated at more than 1,000 registered events in more than 100 countries on May 17, 2009. The mission of the International AIDS Candlelight Memorial is to honor and support those who have been affected by the AIDS pandemic and to mobilize communities worldwide to engage in dialogue, education and partnerships to fight the spread of HIV/AIDS.
The opening ceremony of the International AIDS Candlelight Memorial will be held in Cape Haitian, Haiti, on May 16. Haiti was selected as the host country for the opening ceremony because of progress the impoverished Caribbean country has shown in the response to AIDS. The event is being co-hosted by the Global Health Council and Promoteurs Objectif Zro Sida (POZ), a nongovernmental organization that provides prevention and counseling services around the country.
Haitian Prime Minister Michele Duvivier Pierre-Louis will be the guest of honor at the opening ceremony and is expected to announce a new HIV/AIDS initiative to commemorate the Candlelight Memorial. The event also will feature the lighting of the official Candlelight Memorial candle that represents the hope and perseverance of communities fighting HIV/AIDS worldwide.
The opening ceremony will kick off worldwide events and highlight the importance of the leadership role taken by civil society organizations in the developing world in the fight against HIV/AIDS. The Candlelight Memorial began in 1983 in San Francisco and has since spread throughout the world. With 33 million people estimated to be infected with HIV worldwide, the Candlelight Memorial serves as an important unifying movement among civil society groups and their governments, breaking down social barriers, and giving hope to future generations.
==================================
The Global Health Council is the world's largest membership alliance dedicated to saving lives by improving health throughout the world. The Council serves and represents public health organizations and professionals working in more than 140 countries on six continents. www.globalhealth.org

Promoteurs Objectif Zro Sida is a nongovernmental organization that focuses on reducing the prevalence of HIV/AIDS in Haiti. A recent recipient of the Red Ribbon Award by UNAIDS, POZ develops outreach programs, conducts advocacy activities and manages an AIDS hotline | www.pozsida.org.

For more information about the International AIDS Candlelight Memorial, please go to www.candlelightmemorial.org or contact the International Coordinator, Todd Lawrence at tlawrence@globalhealth.org.

MEDIA AVISORY Contact:
Vince Blaser,Global Health Council
202.833.5900 x 3201 or
vblaser@globalhealth.org
"Reproduced with permission - Global Health Council"
Global Health Council