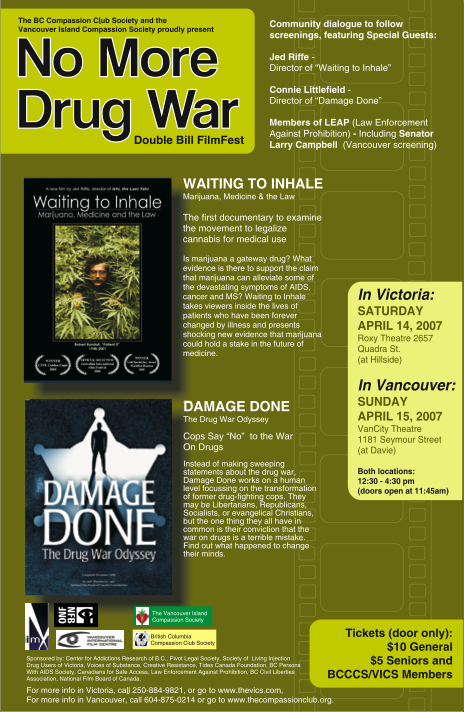 No More Drug War: Film Fest Examines the Impacts of the Failed 'War on Drugs' in Canada and the USA
Vancouver - The British Columbia Compassion Club Society presents No More Drug War a double-bill film fest at the Vancouver International Film Centre April 15th, 2007.
The festival features two exceptional documentaries exploring very different aspects of our failed drug prohibition: Damage Done: the Drug War Odyssey, directed by Connie Littlefield and sponsored by the National Film Board of Canada; and Waiting to Inhale: Marijuana, Medicine & the Law, directed by Jed Riffe and supported by the Sundance Independent Film Festival.
A panel discussion will follow the screening including former Mayor of Vancouver Senator Larry Campbell, members of Law Enforcement Against Prohibition (LEAP) and the film directors.
The films examine some of the tensions inherent in our current drug prohibition and the impact of the unwinnable "war on drugs" on all facets of our community. Through dialogue and discussion following the screening the BC Compassion Club Society hopes to promote the adoption of drug policies that are public health-centered and evidence-based.
The BC Compassion Club Society, a non-profit organization that provides access to medicinal cannabis and other natural health care services, is celebrating its 10th anniversary in May. For more information about the BC Compassion Club, visit: www.thecompassionclub.org
For more information about the documentaries, visit: www.waitingtoinhale.org and www.imx.ca/Current/Damage-Done
The event is sponsored by the Centre for Addictions Research of BC, PIVOT Legal Society, Society of Living Injection Drug Users of Victoria, Voices of Substance, Creative Resistance, Tides Canada Foundation, BC Persons with AIDS Society, Canadians for Safe Access, Law Enforcement Against Prohibition.
Date: Sunday April 15th, 2007

Time: 12:30-4:30 p.m. (doors 11:45)

Location: Vancouver International Film Centre (1181 Seymour Street at Davie)

Tickets (door only): $10 Regular / $5 Seniors & VICS/BCCCS members.


Contact: Rielle Capler at 604-875-0214 or rielle@thecompassionclub.org