Introduction: Positively Positive - Living with HIV
On November 28th 1985, I was told by my doctor to inform my family, arrange my finances and funeral, I had six months to live! After four years of living in fear, my life took a dramatic turn and I embarked on a spiritual journey from fear to Love! Healing does not necessarily mean cure of disease, but healing our mind and transforming our body to realize its full potential, joy and purpose. Learning about the influence that our thoughts have on our life and health; from breakdown to breakthrough! Living today as healthy and as fully as you can, mentally, emotionally, physically and spiritually. The Abundance of Life does not come from what one can provide for oneself, but it is provided in our connectedness. I Show UP For Life!
We don't usually look at AIDS - or any life threatening illness - as an opportunity. But, without diminishing the seriousness of the disease or sentimentalizing its impact, it can be, "a wake up call."
Our judgments and those we place on others...

Out About HIV
Brad McIntyre held a party for his friends last November and presented each with an award, a gift of crystal. One friend was honored with Most Instrumental. Another was named Best Support.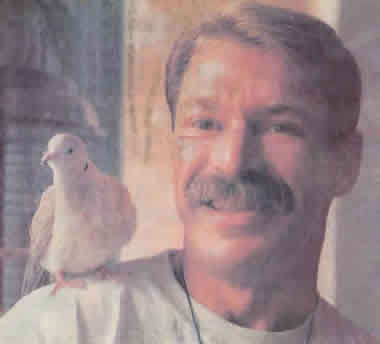 McIntyre, 42, has lived with HIV for almost a decade, and to him it's not a death sentence any more.
The first four years were a living hell, he remembers, mainly because he was afraid of death. But then, after a friend told him he had suffered long enough and hard enough, he slapped some bright paint on his beige apartment walls. He chose to get on with his life....
HIV / AIDS Involvements
1994- 2019 - Bradford McIntyre has become a global face for those living with HIV since his diagnosis in 1984. He has appeared on national television and radio, in numerous newspaper and magazine interviews, documentaries, and national and international speaking engagements. He has served on multiple AIDS Service Organizations Board of Directors.
Bradford has participated in a variety of research studies, and clinical trials of new drug therapies, to help improve treatment and other aspects of HIV.
Since 1994, whenever possible, Bradford has volunteered his time and energy to participate in HIV and AIDS causes and events. Bradford's volunteerism has been acknowledged with the Queen Elizabeth II Diamond Jubilee Medal awarded him in 2012, for excellence in the field of HIV/AIDS, in Canada, and the Pride Legacy Award in 2013, for Sexual Health & HIV/AIDS Awareness.
In 2003, nearly ten years after publicly announcing that he was living with HIV, Bradford launched his website Positively Positive Living with HIV/AIDS. His website is an internationally recognized resource on HIV/AIDS.
Over 3 decades after his HIV diagnosis, Bradford McIntyre continues to share his message of positive living with HIV and is a dedicated advocate for enhancing awareness about HIV/AIDS.
Back to Top
ABOUT
Bradford McIntyre

Web Design by

Copyright © 2003-2021 Bradford McIntyre. All rights reserved.
DESIGNED TO CREATE HIV & AIDS AWARENESS