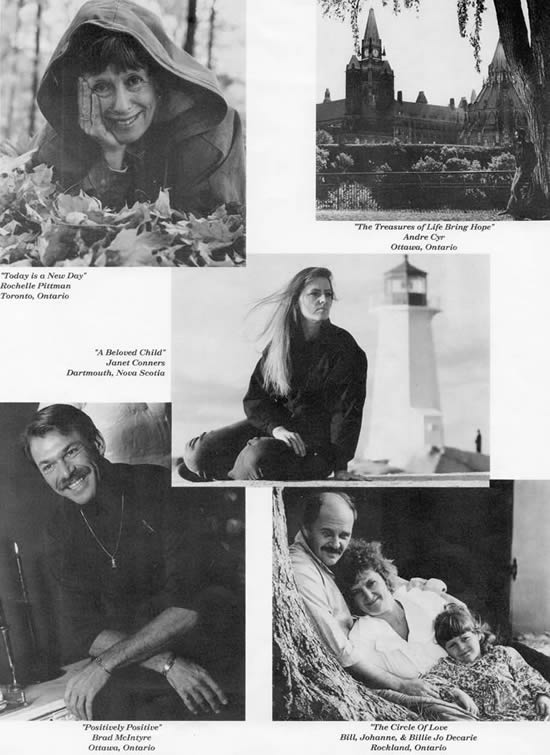 Photographs: A selection of photographs in
Look Beyond The Faces & Stories of People with HIV/AIDS
By Michelle Valberg
---
LOOK BEYOND The Faces & Stories of People with HIV/AIDS:
A CANADIAN EXPERIENCE
Photography by
Michelle Valberg
Assistant Photographer
Jackie Turpin
Proceeds will go to the SNOWY OWL AIDS FOUNDATION
1995
The Faces and Stories of people with AIDS is in the process of being made into a book. A coffee table book, housing 100 black and white photographes of individuals Living with HIV & AIDS. People who's lives are about living, not about death and dying!
Photographer MIchelle Valberg and assistant photographer Jackie Turpin who are photographing people across the country will be in Vancouver in March!
If you would like to be a part of this wonderful project please contact Bradford McIntyre here in Vancouver for an interview, information and dates of photo shoots. POSITIVE people from all walks of life living with HIV & AIDS... Heterosexual, homosexual, bi-sexual, Ethnic, and as well children.
"My purpose for LOOK BEYOND is to show through photography that AIDS is a concern to all Canadians."
"We can no longer put all our thoughts to the reasons why AIDS is here, or who has it, but concentrate on what we are going to do about this growing concern. We have the power — we have the strength — we have the ability. If I can bring to you an ounce of what these people brought to me, I will have done something for AIDS maybe even something for the future of AIDS, or perhaps something for yourself, for your inner being. When I embarked on this project, I never imagined what was to lay ahead, as a photographer I take a moment as it happens, I never plan or prejudge, I could have never known how much there was to learn, love and appreciate. Everyone you see in this book has a powerful story attached to them, they are all very different individuals, but they all live together with the same dreadful disease. There are many faces of AIDS... that is what this book is all about." Michelle Valberg.
Project: LOOK BEYOND The Faces & Stories of People with HIV/AIDS
Photography and Video Michelle Valberg
Assistant photographer and videographer Jackie Turpin
Purpose: To show the many faces of AIDS across Canada by black and white photography and documentary style video.
For more information contact: Bradford McIntyre,
bradford@positivelypositive.ca
LOOK BEYOND is both a fund raising and educational book: proceeds will go to the Snowy Owl AIDS Foundation.
Lise Turpin,

Snowy Owl AIDS Foundation
snowyowl.org
###

Snowy Owl AIDS Foundation
The goal of the Snowy Owl AIDS Foundation is to establish, build and maintain a finacial resource available to organizations dedicated to AIDS educations, prevention and direct support services. The funds administered by the Foundation are used to create, expand and enhance HIV/AIDS programs offered by exisiting charitable organizations, in helping people touched by this disease.
The Snowy Owl AIDS Foundation is a fully recognized charitable foundation established in memory of Louis Turpin. On the day of Louis's death, as family and friends were gathered to share in his passing, an enormous snowy owl appeared just outside the window of Louis's room. For those present, that magnificent bird signified comfort and hope and became a living representation of the love, compassion and beuaty of the human spirit which is seen every day in the fight against HIV adn AIDS. snowyowl.org
"Reproduced with permission - Snowy Owl Foundation"
Snowy Owl Foundation
www.snowyowl.org
For more HIV and AIDS News visit...

Positively Positive - Living with HIV/AIDS:
HIV/AIDS News