AFL 2013 - Art for Life
20th Annual Art For Life Fine Art Auction & Gala
Saturday, November 16, 2013
from 7:30 PM to 11:00 PM (PST)
Vancouver, BC
November 2013 - We invite you to join us at our 20th Annual Art For Life Fine Art Auction, proudly presented by Murrick Insurance Services & Murrick Insurance Services (West End) and benefiting the Vancouver Friends For Life Society.
This year marks the 20th anniversary of Art For Life, one of Vancouver's most established charitable art auctions. Now set in a spectacular venue at CBC Studios, Art For Life 2013 will be inspired by the evolution of Vancouver's local art scene over the past two decades, featuring 110 artworks from Vancouver's top artists valued at over $200,000.
With gorgeous live performances by DJ Calhoun & Melody Courage of Vivace, and Nathalie Heath & Mackenzie Green from So You Think You Can Dance Canada, the 20th Annual Art For Life will undoubtedly be a magical night dedicated to celebrating our past, present and future.
For more information or to view this year`s collection, please visit artforlife.net.
100% of proceeds benefit the Vancouver Friends For Life Society. Your support enables us to continue providing complementary therapies, social support and nutrition programs to our nearly 1,500 clients living with HIV/AIDS, cancer and other serious illnesses. Together, we have raised nearly $3 million since the first Art For Life in 1994.
Location:
CBC Studio 40
700 Hamilton Street
Vancouver, BC
V6B 5N6
Canada
###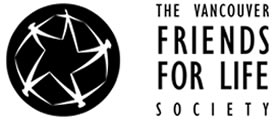 About The Vancouver Friends For Life Society
The Vancouver Friends For Life Society serves as a catalyst to enhance the wellness of individuals living with a life threatening illness by providing complementary and alternative health and support services.

Friends For Life was incorporated in 1993 as a not-for-profit society under British Columbia's Society Act. Friends For Life was started to meet the needs of people confronting the challenges of the 1990s HIV/ AIDS epidemic. Today, Friends For Life provides services to persons with any life-threatening illness including cancer and Hepatitis C.

In 1995 Friends For Life opened the Diamond Centre For Living, North America's only comprehensive wellness centre offering programs and services in a drop-in facility, free-of-charge, to people with life-threatening illness.
www.friendsforlife.ca
FFL needs your help! Here are 2 great ways to donate:
Join the 'Circle of Friends' monthly donation club to build long-term sustainability
Click the 'Donate Online' button on our website to make a 1-time contribution
www.friendsforlife.ca/donating
"Reproduced with permission - The Friends For Life Society"
The Friends For Life Society

For more HIV and AIDS News visit...

Positively Positive - Living with HIV/AIDS:
HIV/AIDS News