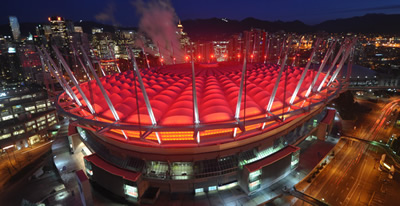 BC PLACE GOES RED DECEMBER 1st TO MARK WORLD AIDS DAY
November 30, 2012 - Vancouver, BC: On Saturday, December 1st, the BC Place Northern Lights Display will glow "red" to support the Canadian Foundation for AIDS Research (CANFAR) in raising awareness for AIDS research.
Since the first World AIDS Day in 1988, people around the world have shown their commitment to finding a cure by 'going red' and wearing a red ribbon.
Date:
Saturday, December 1st, 2012
Times:
MORNING - 6:00AM to Sunrise
EVENING - Sunset to 11:00PM
About CANFAR
The Canadian Foundation for AIDS Research is Canada's only independent charitable foundation dedicated to eliminating HIV and AIDS through research. By funding promising Canadian AIDS research and spreading awareness through education campaigns, CANFAR is working to end AIDS globally. Since 1987, CANFAR has awarded more than $18 million to HIV and AIDS research projects. Visit www.CANFAR.com for more information. Twitter: @CANFAR
About the "Northern Lights Display" at BC Place
The stadium roof façade - known as the Northern Lights Display - utilizes 1700 'ETFE' panels, stacked four rows high, and 6,800 linear feet of energy-efficient LED lights to create customizable lighting displays. BC Place has utilised the entire roof to promote events (orange for BC Lions, blue for Vancouver Whitecaps FC), to create seasonal and holiday displays, and to generate awareness for community and charitable organizations. Visit www.bcplace.com/roof-lights for more information.
About BC Place
BC Place is the largest sports, exhibition and entertainment venue of its kind in British Columbia, hosting the province's most notable events including the Opening and Closing Ceremonies of the Vancouver 2010 Olympic Winter Games. An all-new BC Place reopened in September 2011 after completing a major revitalization that included the installation of the largest cable-supported retractable roof of its kind in the world. Today, BC Place is home to Vancouver Whitecaps FC, the BC Lions Football Club and the BC Sports Hall of Fame. BC Place is an important generator of economic activity in British Columbia, hosting world-class entertainment events, professional and amateur sport, community gatherings and exhibitions. For more information, follow BC Place on Twitter @BCPlace or visit www.bcplace.com
###
Media Contact:
Trevor Pancoust
Tel: 604.646.3567
tpancoust@pacegroup.com
Source: BC Place
For more HIV and AIDS News visit...

Positively Positive - Living with HIV/AIDS:
HIV/AIDS News