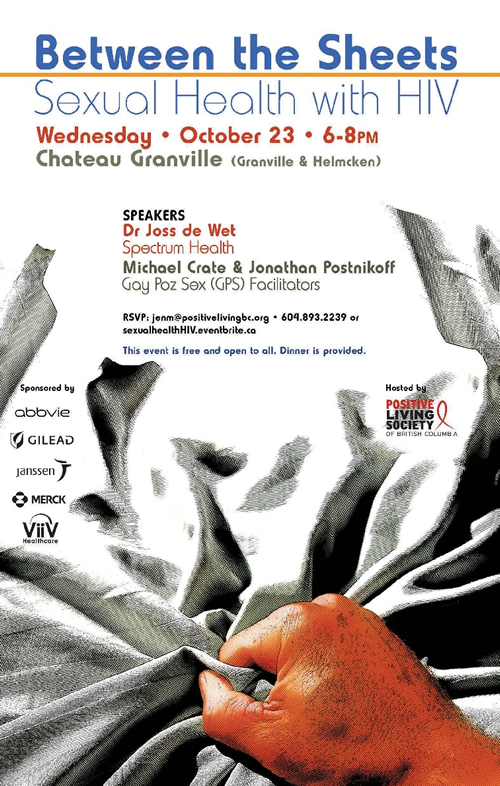 Announcing Positive Living BC's Next Community Forum
Between the Sheets: Sexual Health and HIV
Wednesday, October 23, 2013, 6-8pm
Chateau Granville (Granville & Helmcken)
Speakers:

Dr Joss de Wet, Spectrum Health

Michael Crate & Jonathan Postnikoff, Gay Poz Sex (GPS) Facilitators
RSVP: jenm@positivelivingbc.org, 604.893.2239
or
http://sexualhealthHIV.eventbrite.ca by October 20
This event is free and open to all. Dinner is provided.
Made possible thanks to: Abbvie, Gilead, Janssen, Merck, Viiv
###
Contact:
Jen MacPherson, RD, MPH
Treatment, Health and Wellness Coordinator
Positive Living Society of BC
1107 Seymour Street, 2nd Floor Vancouver, BC
V6B 5S8
t. 604.893.2239
f. 604.893.2251
1.800.994.2437
www.positivelivingbc.org
Like us on facebook | Follow us on twitter



POSITIVE LIVING BC is dedicated to empowering persons living with HIV/AIDS through mutual support and collective action. We are a Registered Non-profit Society (#11928-2085) and an established leader in the HIV/AIDS movement. Uniquely among major agencies in Canada, the POSITIVE LIVING BC Board of Directors is composed entirely of HIV+ members.

Formerly known as the British Columbia Persons With AIDS Society (BCPWA) and with a membership of more than 5,000 HIV+ members, we are Western Canada's largest AIDS service organization and a proud history spanning three decades. www.positivelivingbc.org
"Reproduced with permission - POSITIVE LIVING BC"
POSITIVE LIVING BC

For more HIV and AIDS News visit...

Positively Positive - Living with HIV/AIDS:
HIV/AIDS News