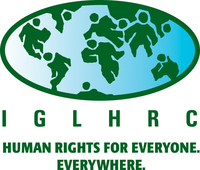 IGLHRC Mourns the Death of Nelson Mandela
"I am not truly free if I am taking away someone else's freedom, just as surely as I am not free when my freedom is taken from me. The oppressed and the oppressor alike are robbed of their humanity." - Nelson Mandela
December 6, 2013
Statement by Jessica Stern, Executive Director
"Nelson Mandela's death yesterday is an enormous loss to all of us, but his life and legacy were incomparable gifts to the world. I admire Mandela's leadership in the fight against the incomprehensible cruelty of apartheid and his advocacy for universal human rights. It is in part because of his great efforts that South Africa became in 1996 the first African country to provide constitutional protection from discrimination on the basis of sexual orientation. Mandela once said, 'We must construct that people-centered society of freedom in such a manner that it guarantees the political liberties and the human rights of all our citizens.' Today, in the tradition of Mandela, South Africans continue to be leaders on the world stage in the struggle to end discrimination based on sexual orientation and gender identity. Nelson Mandela, thank you."
###
The International Gay and Lesbian Human Rights Commission (IGLHRC) is a leading human rights organization solely devoted to improving the rights of people around the world who are targeted for imprisonment, abuse or death because of their sexuality, gender identity or HIV/AIDS status. IGLHRC addresses human rights violations by partnering with and supporting activists in countries around the world, monitoring and documenting human rights abuses, engaging offending governments, and educating international human rights officials. A non-profit, non-governmental organization, IGLHRC is based in New York, with offices in Cape Town and Buenos Aires. Visit http://www.iglhrc.org for more information
The Mission of the International Gay and Lesbian Human Rights Commission is to secure the full enjoyment of human rights of all people and communities subject to discrimination or abuse on the basis of sexual orientation or expression, gender identity or expression and/or HIV status.
Reproduced with permission - "INTERNATIONAL GAY AND LESBIAN HUMAN RIGHTS COMMISSION (IGLHRC)"
INTERNATIONAL GAY AND LESBIAN HUMAN RIGHTS COMMISSION (IGLHRC)

For more HIV and AIDS News visit...

Positively Positive - Living with HIV/AIDS:
HIV/AIDS News