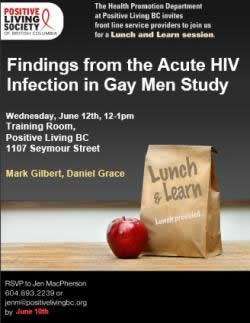 Lunch & Learn:
Initial findings from the CIHR Team Study of Acute HIV Infection in Gay Men
Join us on June 12th from 12-1pm for a tasty lunch and interesting report from CIHR, courtesy our Health Promotion Department.
Initial findings from the CIHR Team Study of Acute HIV Infection in Gay Men
The purpose of this talk is to have a discussion regarding the initial findings from surveys and interviews with gay men in Vancouver newly diagnosed with acute or recent HIV infection. These findings are from a five-year study coordinated by the BC Centre for Disease Control, where Positive Living has been a key community partner. The presenters would like to discuss the findings and plans for analysis in the final year of the study.
Presenters:
Mark Gilbert, MD, Clinical Prevention Services, BCCDC
Daniel Grace, PhD, Clinical Prevention Services, BCCDC
Please RSVP to Jen MacPherson at: jenm@postivelivingbc.org or 604-893-2239
Date: Wednesday, 12 June 2013 - 12:00pm
Location: Training Room, Positive Living BC
Cost: Free
Contact: RSVP to Jen at jenm@postivelivingbc.org
###


About POSITIVE LIVING BC
POSITIVE LIVING BC is dedicated to empowering persons living with HIV/AIDS through mutual support and collective action. We are a Registered Non-profit Society (#11928-2085) and an established leader in the HIV/AIDS movement . Uniquely among major agencies in Canada, the POSITIVE LIVING BC Board of Directors is composed entirely of HIV+ members.

Formerly known as the British Columbia Persons With AIDS Society (BCPWA) and with a membership of more than 4,800 HIV+ members, we are Western Canada's largest AIDS service organization and a proud history spanning three decades. For more information visit: www.positivelivingbc.org

"Reproduced with permission - POSITIVE LIVING BC"
POSITIVE LIVING BC

For more HIV and AIDS News visit...

Positively Positive - Living with HIV/AIDS:
HIV/AIDS News