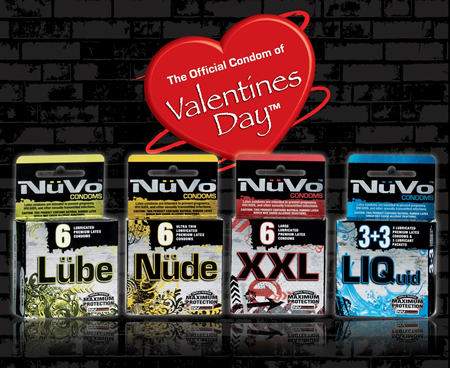 NüVo CONDOMS THE OFFICIAL CONDOM OF VALENTINES DAYTM. WILL BE SUPPLYING 2 US HIGH SCHOOLS WITH CONDOMS & EDUCATIONAL MATERIALS FOR VALENTINES DAY.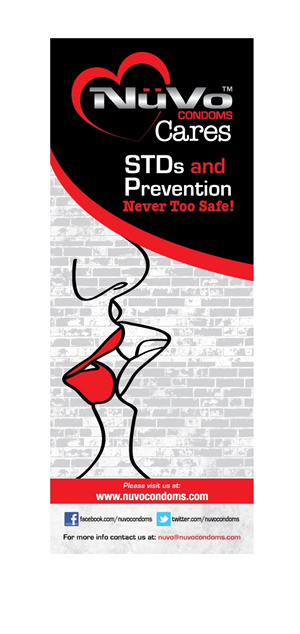 NEW YORK, February 6, 2013 - NüVo Condoms, the official condom of Valentines DayTM, has announced a new educational program for Valentines Day. Already we have 2 US High Schools confirmed for this program. Augsburg Fairview Academy in Minneapolis, MN and Socorro High School in El Paso Texas.
When speaking about this program Jenny Anderson, school Social Worker at Augsburg Fairview Academy said "We are grateful to NüVo for helping us continue in our work of empowering youth to have safer sex and take control of their sexual health through education and access. With the generous donation by NüVo, our students will have the tools to educate each other on safer sex and promote healthy relationships".
According to the CDC 47.4% of U.S. High School students have had sexual intercourse. And among those adolescents 40% did not practice safe sex.
NüVo Condoms is not condoning sex for teenagers on Valentines Day but would like to make sure that all students are being safe and protected by offering high schools free condoms. About one in two pregnancies in America are unplanned. Teenagers are going to have sex on Valentines Day anyway, so NüVo would like to take an active role to provide protection against teenage pregnancy and/or unwanted STD's.
Any high school that still wishes to receive a free supply of N ü Vo Condoms to distribute to students before Valentines Day, please contact nuvo@nuvocondoms.com .
NüVo Condoms is the challenger brand that is making a bang --literally-- in the condom industry. The urban, edgy packaging promotes NüVo's message of having a positive, fun yet responsible approach to sexuality and sexual relationships. NüVo is committed to making an impact on unwanted pregnancy and the recent rise in STD's by making condoms available to anyone who needs them at a competitive price.
NüVo Condoms deploys a number of grass roots programs to get the word out about having fun in a safe and responsible manner including: sponsorships, concerts, tailgates, philanthropies and distributing over 500,000 free condoms in 2012.
NüVo Condoms can be purchased in Duane Reade stores, select Walgreens stores, USA Drug, Navarro, Fred's Drug and regional retail drug chains. Online at CVS.com, drugstore.com and amazon.com.
NüVo Condoms are manufactured by NV Healthcare, LLC.
For more information on NüVo condoms, please visit: www.nuvocondoms.com
###
"Reproduced with permission - "NüVo Condoms "
NüVo Condoms

For more HIV and AIDS News visit...

Positively Positive - Living with HIV/AIDS:
HIV/AIDS News