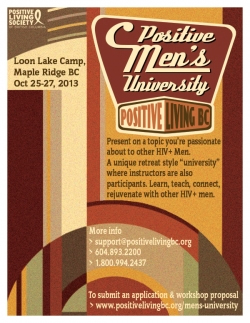 Positive Men's University: Call for proposals
Positive Living Society of BC is presenting, through the Support Department, a series of short peer-lead workshops to take place at the M.A.C. AIDS Fund Men's University (+ Men's University) on October 25-27, 2013.
This is an opportunity for you, as a HIV+ man, to teach a class to other HIV+ men on a subject of your choice. No prior teaching experience is necessary, just be passionate and knowledgeable about your subject! Classes at + Men's University will range in size from 5 to 25 students, and are 45 minutes long.
All University attendees will be teachers

All teachers will be participants.
Through classes and workshops offered in a safe and light-hearted environment, + Men's University is designed to provide opportunities for growth and learning for HIV+ men in BC. This project seeks to create a sense of community, reduce isolation, enhance self-esteem and promote communication among men of all ages, sexual orientations, levels of education and background.
We are calling for proposals for workshops presented by and to HIV+ men on subjects that are interesting, educational and fun. More than one proposal may be submitted.
Possible topics include, but are not limited to; financial strategies, dating, film and theater, holistic medicine, producing your own podcast, storytelling and writing, pop culture, arts and crafts, relationships, sexuality and erotica, gardening, travel, career development, cooking, and anything else that may be of interest to the community!
+ Men's University instructor/teacher/guides also make up the university participants. Attendees will be selected by a committee. HIV+ men interested in offering a course must submit an application including personal and emergency/medical info.
Successful applicants will be invited to an interview and to take part in an optional "Effective Workshops" Workshop in Vancouver, September 26, 2013.
Please fill out attached application if interested. Both the university application and medical information form are attached below.
###
Source: POSITIVE LIVING BC


About POSITIVE LIVING BC
POSITIVE LIVING BC is dedicated to empowering persons living with HIV/AIDS through mutual support and collective action. We are a Registered Non-profit Society (#11928-2085) and an established leader in the HIV/AIDS movement . Uniquely among major agencies in Canada, the POSITIVE LIVING BC Board of Directors is composed entirely of HIV+ members.

Formerly known as the British Columbia Persons With AIDS Society (BCPWA) and with a membership of more than 4,800 HIV+ members, we are Western Canada's largest AIDS service organization and a proud history spanning three decades. For more information visit: www.positivelivingbc.org

"Reproduced with permission - POSITIVE LIVING BC"
POSITIVE LIVING BC

For more HIV and AIDS News visit...

Positively Positive - Living with HIV/AIDS:
HIV/AIDS News