Aids Activist Kecia J. Releases Memoir "Dying To Be Diva" On Amazon, Kindle, & Ibooks
An untold story about a young girl who wanted the American dream, but contracted the AIDS virus at 22 instead.
PRLog (Press Release) - Jul. 8, 2014 - LOS ANGELES, Calif. -- Right now over 1.3 million people in the United States are living with HIV, but yet its still taboo to talk about it. AIDS Activist, Kecia Johnson is doing her best to change that. After being diagnosed with AIDS in 2006 at the young age of 22, Kecia vowed to herself to be a leading example to change the mindset of Americans when it comes to HIV/AIDS. In the 7 years it took Kecia to write this true story, she is sure it will help stop the stigma against HIV/AIDS. This past week Kecia released her memoir, "Dying To Be DIVA" on Amazon. Expect the kindle & iBooks release on July 20.
Kecia is launching her book with an "I AM DIVA" sip & read tour.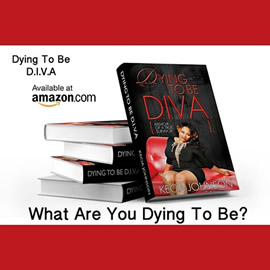 This tour will hit major cities throughout the U.S. and reveal exclusive excerpts from the book and red carpet interviews about HIV/AIDS. She will have celebrity guest and host at each city. Next tour city is Harlem, NY July 25, 2014. Hosted by Tionna Smalls. Powered by Madison Jaye TV. For details go to www.iamkeciaj.com
Dying to be D.I.V.A : A True Story of a Survivor by Kecia Johnson is a highly anticipated memoir about a young woman who's been to hell and back, all while trying to make a name for herself through her craft. Readers can follow Kecia through her amazing journey which began with a broken home despite a great upbringing. This led to a horrendous stint of events which began to derive Kecia'ss life decisions beginning at the young age of 19, when entering a tumultuous intimate 3 year relationship. Little did she know, at the age of 22 she would be diagnosed with a disease that would change her life forever! Her world spiraled out of control when she turned to the fast life of drugs and the secret stilettos of the street life, just to afford her way and stay alive. The glamorous life came to a screeching halt for Kecia when she found herself in the middle of an intense legal battle and facing life in prison for a crime she didn't commit. Readers will completely embrace Kecia along with her story of absolute triumph and overcoming what seems insurmountable odds. This book is the enriching true story of survival that will keep readers gripped from the beginning to the end and have you questioning....Who Am I Dying to Be...?
###
Media Contact
Meisha Amia meishaamiapr@gmail.com

Photo:http://www.prlog.org/12345950/1http://www.prlog.org/12345950/1
For more HIV and AIDS News visit...

Positively Positive - Living with HIV/AIDS:
HIV/AIDS News