'Incredible ambassador of science'
Having discovered HIV, Dr. Françoise Barré-Sinoussi wants a cure
By Mary Engel / Fred Hutch News Service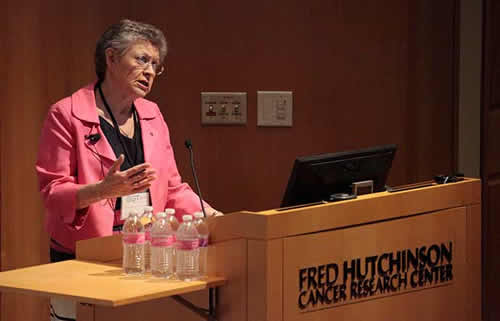 Dr. Françoise Barré-Sinoussi, who discovered HIV in 1983, was the keynote speaker at an HIV cure conference at Fred Hutchinson Cancer Research Center on Tuesday. "It's impossible to overstate the worldwide impact Francoise has had," said Dr. Larry Corey, Hutch virologist and director emeritus. Photo By Robert Hood / Fred Hutch News Service
Aug. 26, 2014 - French virologist Dr. Françoise Barré-Sinoussi, who shared the Nobel prize in medicine for her 1983 discovery of the retrovirus that causes AIDS, told a packed auditorium at Fred Hutchinson Cancer Research Center Tuesday that she is "personally convinced we can reach permanent remission-a functional cure" for HIV.
Delivering the keynote address on the first day of a two-day Conference on Cell and Gene Therapy for HIV Cure, Barré-Sinoussi made an impassioned case for why scientists should work toward a cure even though combination antiretroviral therapy has - for those who have access to and can tolerate the treatment - turned HIV from the death sentence it had been for the first 15 years of the epidemic to a largely manageable chronic disease today.
At the same time, Barré-Sinoussi stressed the scientific challenges that remain before a cure of any kind can be realized - whether the long-term remission that she and many others consider the most realistic goal or a so-called sterilizing cure that would eradicate all traces of the wily virus.
"Over the years, we realized, first for vaccine research and now for cure research, how much we need more basic science," Barré-Sinoussi said.
Read Full Article: Fred Hutchinson Cancer Research Center


For more HIV and AIDS News visit...

Positively Positive - Living with HIV/AIDS:
HIV/AIDS News