New documentary focuses on African grandmothers at the front lines of the AIDS pandemic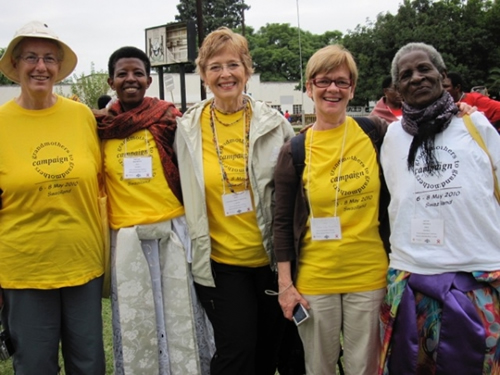 by Yolande Cole on Nov 21, 2014
Janine Reid decided to join the Grandmothers to Grandmothers Campaign long before she had grandchildren of her own. .
For the retired educator, it was the thought of the children orphaned by HIV/AIDS in sub-Saharan African that pulled her in to the movement designed to support the grandmothers who are caring for those orphans.
"I've been an educator for 37 years, so it was thinking about the vulnerability of 17 million children [that] really got me," Reid said in a phone interview.
"They watch their parents die-their fear must be tremendous. They are at risk for violence, they may lose their homes. Some children are the caregivers for their younger siblings, so children as young as 10 may be looking after younger kids."
In 2007, she founded a New Westminster grandmothers group called the Royal City Gogos. She later had a chance to travel to Swaziland to meet some of the women caring for their grandchildren. And last year, she attended a tribunal in Vancouver focused on the human rights of the grandmothers who are on the front lines in the struggle against HIV/AIDS in Africa.
"Grandmothers are subject to property grabbing when their husband dies, because in many countries, they don't have the right to own property and the right to their own home," Reid said.
"They're subject to violence from all sides, many do not have any pensions, and they do their best to raise the children in their care in those circumstances."
A new documentary film about the tribunal, and the stories of the grandmothers who took part, is being screened in Vancouver Saturday (November 22).
The Stephen Lewis Foundation's African Grandmothers Tribunal: Seeking justice at the frontlines of the AIDS crisis features interviews with women in Swaziland and Uganda, and footage of the women's testimonies at the Vancouver event.
Justine Ojambo was one of the millions of children orphaned by HIV/AIDS on the continent. He and his two brothers went on to establish a non-governmental organization called Phoebe Educational Fund for Orphans & Vulnerable Children, which supports grandmothers and children under their care.
"The whole idea was that we started this foundation together with my other two brothers to give to other children an education opportunity like we had been given, but at the same time also remembering our mum Phoebe, who had done a lot in her life but unfortunately she passed away before she could succeed in life," Ojambo told the Straight by phone from Toronto.
Ojambo, who is featured in the documentary, will be in Vancouver for the film screening. He said it will give audiences a chance to listen to the grandmothers.
"That is a great opportunity that they hear the grandmothers speaking for themselves, so they will get first-hand experience through the film, from the grandmothers telling what they are going through and how they are facing life and struggling and not losing hope," he said.
He added the film will also provide an opportunity for those who have been involved in the Grandmothers to Grandmothers Campaign to see first-hand the impact of their support.
The campaign, which was launched by the Stephen Lewis Foundation in 2006, aims to raise awareness and mobilize support in Canada for grandmothers in Africa.
The foundation works with community-based organizations in 15 sub-Saharan African countries, including Botswana, the Democratic Republic of the Congo, Ethiopia, Kenya, Malawi, Mozambique, South Africa, Tanzania, and Zimbabwe.
Reid noted that the grandmothers involved in the campaign have formed a support network both locally and internationally. In the Vancouver region, she said there are about 500 women participating in 25 groups.
She now has three grandchildren of her own, who give her increased motivation to raise awareness about the orphans affected by the AIDS pandemic.
"I think about it in terms of making the world a safer and better place for them as well," she said.
"They're going to grow up with a generation of orphans living in the world at the same time that they are, and what kind of world will it create if we don't do our best to help those children? We know now how very small the world is and how we can be affected by the things that happen a world away."
African Grandmothers Tribunal: Seeking justice at the frontlines of the AIDS crisis will be screened at UBC Robson Square Saturday (November 22). A craft sale will open at 10 a.m., and the film will be screened at 1 p.m. and 3 p.m.
Both screenings will be followed by an audience Q&A with Ojambo and Ilana Landsberg-Lewis, the executive director of the Stephen Lewis Foundation. Tickets are $10 at the door.
###


About the Georgia Straight
Canada's Largest Urban Weekly
No other city publication knows more about Vancouver than the Georgia Straight. Established as the lifestyle and entertainment weekly in Vancouver for over 40 years, the Georgia Straight is an integral part of the active urban West Coast lifestyle with over 804, 000 readers (2009 Angus Reid).
Every Thursday, the Georgia Straight delivers an award-winning editorial package of features, articles, news and reviews. www.straight.com
Source: http://www.straight.com/movies/775736/new-documentary-focuses-african-grandmothers-front-lines-aids-pandemic
"Reproduced with permission - The Georgia Straight"
The Georgia Straight

For more HIV and AIDS News visit...

Positively Positive - Living with HIV/AIDS:
HIV/AIDS News