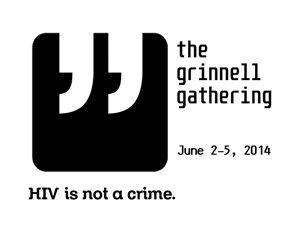 NATIONAL HIV IS NOT A CRIME CONFERENCE
JUNE 2-5 At Grinnell College, Grinnell, IA
HIV, LGBT, AND SOCIAL JUSTICE GROUPS UNITE TO END HIV CRIMINALIZATION
GRINNELL, IA, March 31, 2014 - Registration is open for the first-ever national HIV is Not a Crime conference convened to unite and train advocates living with HIV and allies from across the country in the effort to end the criminalization of people with HIV. The gathering will be held from June 2nd to 5th, 2014, at Grinnell College in Grinnell, Iowa.
"We expect to a see diverse range of attendees who are working or volunteering for grassroots community groups or organizations across the country," said Robert Suttle, one of the conference organizers and a person living with HIV. "We're asking community organizations to assist us with raising funds to provide need-based scholarships, because every person that attends will help strengthen our movement to educate the community and advance advocacy for criminalization reform," Suttle added.
The conference will empower attendees with three days of workshops and practical trainings on state advocacy, grassroots organizing, activism, and familiarity with the legal, medical, media, and public health issues related to HIV criminalization. As a result of the HIV Is Not A Crime conference, individual and organizational participants will be better equipped to initiate or advance advocacy in their home states addressing HIV-related criminalization, stigma and discrimination. The conference will help to rebuild and reenergize state-based HIV advocacy efforts.
Registration and scholarship information can be found on the conference website: www.HIVIsNotACrime.com.
Scholarship applications must be submitted by April 7th.
HIV criminalization refers to the wrongful use of one's HIV positive status in criminal prosecutions, which has led to people with HIV being charged under HIV-specific criminal statutes, or under general criminal statutes, including for behaviors that pose no or little risk of HIV transmission. Sentencing in these cases has sometimes involved decades in prison and/or required sex offender registration, including in circumstances when there was no risk of HIV transmission.
These laws, policies and practices contribute to the HIV epidemic by driving people away from public health and treatment programs and by discouraging at-risk individuals from getting tested.
To get involved or request information on the conference program, registration, and scholarship details, contact conference@seroproject.com.
HIV IS NOT A CRIME CONFERENCE LIST OF CO-ORGANIZERS
(list still in formation):
AIDS Foundation of Chicago & HIV Prevention Justice Alliance,
AIDS United,
American Civil Liberties Union of Iowa,
Black AIDS Institute,
The Body,
Broadway Cares / Equity Fights AIDS,
Campaign to End AIDS,
Community HIV/Hepatitis Advocates of Iowa Network,
Family Planning Council of Iowa,
Gay Men's Health Crisis,
Glazebrook & Moe, LLP Attorneys at Law,
GNP+ North America,
HIVster.com,
HIV Justice Network,
HIV Law Project,
Housing Works,
Human Rights Campaign (HRC),
Lambda Legal,
Lifelong AIDS Alliance,
Louisiana AIDS Advocacy Network,
My Fabulous Disease,
One Iowa,
National Minority AIDS Council,
National Coalition of Anti-Violence Programs,
National Center for Lesbian Rights,
Philadelphia Center (Northern Louisiana),
Positive Iowans Taking Charge,
Positive Women's Network-USA,
Project of Primary Health Care
Sero Project,
Sociologist AIDS Network,
Transgender Law Center,
and U.S People Living with HIV Caucus
###
Source: HIV_Is_Not_A_Crime_Registration_Release_Updated.pdf
www.HIVisNotACrime.com
MEDIA CONTACT:
Reed Vreeland,
Communications Coordinator
Reed.Vreeland@SeroProject.com
917-573-6328
For more HIV and AIDS News visit...

Positively Positive - Living with HIV/AIDS:
HIV/AIDS News