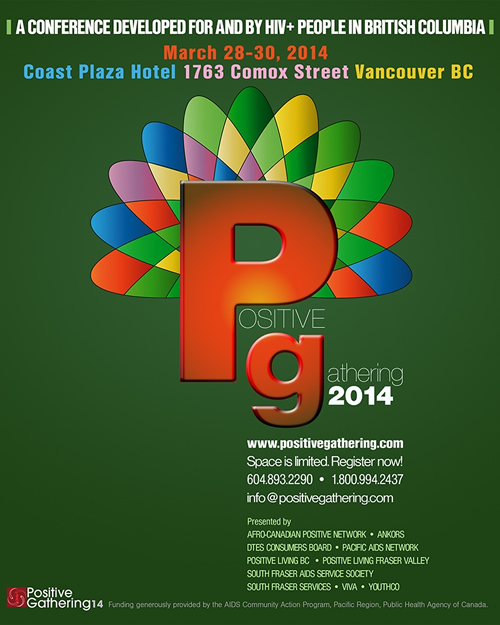 POSITIVE GATHERING 2014
A conference developed for and by HIV+ people in British Columbia
March 28 - 30, 2014
Coast Plaza Hotel
1763 Comox Street
Vancouver BC
HIV-Positive people living in British Columbia are invited to share their expertise at Positive Gathering 2014. Positive Gathering is a conference developed for you where your peers will be presenting on a variety of topics of interest to people living with HIV.

Past workshops have included The Art of Touch, Young and Positive, Foods that Fight for You, and Planning Ahead: Income Programs for Seniors. Our peer delivered interactive workshops are designed for HIV-positive people to enhance their quality of life through open dialogue about the shared experience of this disease. Our breakaway sessions and gala dinner are great opportunities for networking and having fun!

Important notice: Deadline for workshop proposals and scholarship applications extended to Feb. 14!

Learn how to submit your proposal!

Space is limited Register now!
604-893-2290 * 1-800 994-2437
info@positivgathering.com
www.positivegathering.com

Presented by:
AFRO-CANADIAN POSITIVE NETWORK
ANCORS
DTES CONSUMERS BOARD
PACIFIC AIDS NETWORK
POSITIVE LIVING BC
POSITIVE LIVING FRASER VALLEY
SOUTHFRASER AIDS SERVICE SOCIETY
SOUTH FRASER SERVICES
VIIV HEALTHCARE
YOUTHCO

Funding generously provided by the AIDS Community Action Program, Pacific Region, Public Health Agency of Canada.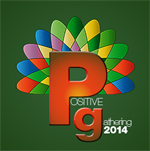 ###



About POSITIVE LIVING BC
POSITIVE LIVING BC is dedicated to empowering persons living with HIV/AIDS through mutual support and collective action. We are a Registered Non-profit Society (#11928-2085) and an established leader in the HIV/AIDS movement . Uniquely among major agencies in Canada, the POSITIVE LIVING BC Board of Directors is composed entirely of HIV+ members.

Formerly known as the British Columbia Persons With AIDS Society (BCPWA) and with a membership of more than 4,800 HIV+ members, we are Western Canada's largest AIDS service organization and a proud history spanning three decades. For more information visit: www.positivelivingbc.org
"Reproduced with permission - POSITIVE LIVING BC"
POSITIVE LIVING BC

For more HIV and AIDS News visit...

Positively Positive - Living with HIV/AIDS:
HIV/AIDS News