What is GPS? (Gay Poz Sex)
March 29, 2014
Gay Poz Sex (GPS) is a sexual health program for gay and bisexual men who are HIV-positive. I know: Finally!
GPS is facilitated by gay, poz men, and we take a gay-positive, sex-positive approach to understanding our sexual health and getting good sex.
Like GPS in a car helps you find your way when traveling, our GPS program helps gay, bisexual, poz men find their own way when seeking hot and healthy sex.
In taking a look at our current sexual behaviour, we can see:
what's good about it
what's not so good
what each of us would like our sex life to look like
Although each GPS group will have 6 - 8 men, each guy will have his own sexual health goal that he chooses himself:
"Tom" may want more regular fuck buddies
"Bill" may want a long-term sexual partner
"Dick" may want to 'open' his relationship with his partner for threesomes, while
"Harry" may want to separate his substance use from his sex
Whatever your sexual health goal is, GPS can support you in getting what you want, and not what you don't.
Sex is about more than where you put your penis:
GPS takes a holistic approach to sex - how the physical, emotional, and social aspects of our lives impact our sex and sexual health.
For over 4 years, the GPS program has helped gay, bisexual, poz men clarify what they want from sex and then work toward that goal.
Almost all of the guys who've done GPS say they wish the program was longer - a testament to how important it is to have a safe space for gay, bisexual, poz guys to talk openly and meaningfully about sex.
The Details:
Only men over 18 years old and who identify as gay or bisexual and are HIV-positive are eligible
We meet for 2 hours once a week for 8 weeks
Confidentiality and safety are a priority - we only use pseudonyms (fake names)
As we are in the second phase of researching GPS, participants are asked to complete questionnaires periodically and paid $30 for each questionnaire they complete
There are other criteria for eligibility and we can tell you about that when you contact us for more info
Currently, GPS is being offered as part of a research study to determine the impact of the GPS program in participants' lives. Information about the research is available here.
###
Vancouver Contact
Jonathan Postnikoff and Michael Crate
Peer Facilitators
gps@positivelivingbc.org
Call 604-240-7702
gaypozsex.org

Toronto Contact
Rick & Scott
Peer Facilitators
416-340-8484 x277
Rick at gro.otnorotca@neilujr or
Scott at gro.otnorotca@nospmiss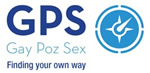 About GPS
A sexual health program for gay and bisexual HIV+ men facilitated by gay, HIV+ men.
"Reproduced with permission - Gay Poz Sex (GPS)"
Gay Poz Sex (GPS)

For more HIV and AIDS News visit...

Positively Positive - Living with HIV/AIDS:
HIV/AIDS News